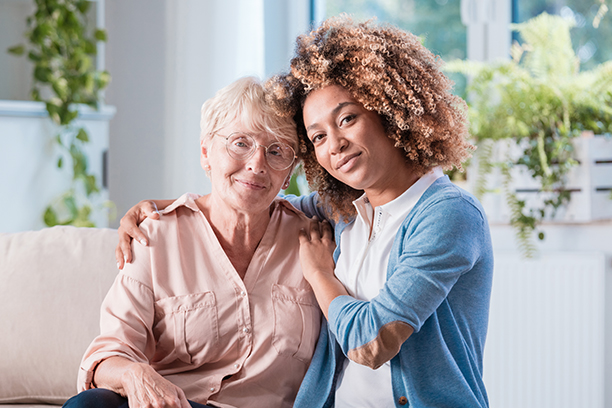 How We Assist Seniors to Age in Place
At Visiting Angels®, our care services are designed to make aging in place possible for seniors.
As one of America's leading home care providers, we know how important it is for seniors to age in the comfort of their homes. At the same time, we know how difficult aging in place can be without caregiving services.
While the vast majority of seniors would prefer to live at home, this can prove challenging. As we grow older, we tend to lose mobility, strength, and coordination. day-to-day activities, like housekeeping and meal preparation, become challenging or unsafe. As a result, many seniors lose their independence.
Our caregiving services help seniors continue living at home, even when faced with serious physical or cognitive difficulties. Our most popular home care services make aging in place possible for the majority of seniors. We offer a number of specialized services, such as Alzheimer's care, for clients with advanced care needs.
With Visiting Angels, seniors can remain home safely and comfortably. This way, your loved one can spend their golden years where they want.
The Importance of Aging in Place
Nearly 90% of Americans over the age of 65 would prefer to remain in their own homes for as long as possible, according to the AARP. But without outside help, many seniors struggle to maintain their independence over time. This can force them to leave their homes, taking away their ability to age in place.
When seniors have freedom at home on their terms, they benefit in a number of ways. Seniors who age in place get to live in an environment that feels secure and comfortable. They can also continue familiar hobbies and routines. These factors can be crucial to the emotional well-being of seniors.
Living at home also offers important health benefits to older adults. In shared living facilities, contagious illnesses can spread much more easily. As a result, studies have found that seniors who receive in-home care have better health outcomes on average than seniors who receive care in a facility setting.
In-Home Care vs. Assisted Living
The main alternative to in-home care is assisted living. Unlike in-home care, which allows seniors to remain in their homes, assisted living requires moving into a retirement home or community.
There are several reasons why many seniors prefer in-home care to assisted living. In most cases, the number one reason is the chance to remain at home. Simply put, few seniors want to trade familiar surroundings for an unfamiliar environment.
Another big reason is cost. At minimum, assisted living costs tens of thousands of dollars each year. Home care services can be hired at a fraction of this amount, keeping care affordable for families.
Finally, many seniors want to continue their personal routines and maintain their independence. In assisted living facilities, routines are dictated by meal times and predetermined care schedules. But with in-home care, plans can be tailored to each client's needs and preferences. This way, seniors get the care they need on their own terms.
How Visiting Angels Can Help
Visiting Angels has been helping American seniors age in place for over 25 years.
Our senior care helps older adults live at home safely and comfortably, whatever their situation. We make this possible by helping seniors with tasks and activities that have become difficult or unsafe to perform on their own. We can help with errands, cooking, laundry and light housekeeping or assist with activities of daily living like grooming, dressing, and bathing.
At the same time, our caregivers provide seniors with companionship and conversation, helping those who would otherwise be at risk for social isolation. We also make it easier for families to spend more quality time together by providing much-needed relief to family caregivers.
Every Visiting Angels client receives a custom care plan, tailored to their needs and preferences. We also strive to find the perfect care provider for every senior, with the right combination of skills, experience, and compassion.
Our approach has helped thousands of seniors extend their years at home. If you have a loved one who's at risk of losing their independence, we encourage you to contact your local Visiting Angels agency to schedule a free consultation.
Do you have a loved one who needs help with aging in place? Contact your local Visiting Angels office today!
Serving Sacramento, Del Paso, North Highlands, Pocket, Greenhaven including West Sacramento and Davis, CA
Visiting Angels
MIDTOWN SACRAMENTO, CA
2026 X Street
Sacramento, CA 95818
Phone: 916-273-9199
HCO #344700027