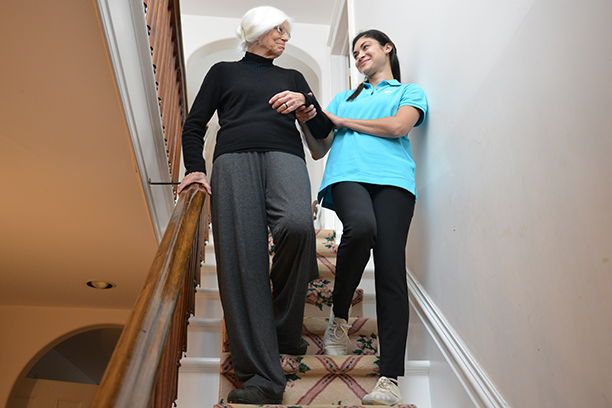 Alzheimers Services in Ballantyne NC
Alzheimer's Care in Ballantyne, NC
Was your parent, spouse or other elderly loved one recently diagnosed with Alzheimer's? If so, you were probably shocked and troubled to hear the news. You're a working adult, possibly with children to care for, which makes this diagnosis particularly stressful and scary. Whether you lack the time to personally care for your loved one or you live states away, pursuing professional Alzheimer's care in Ballantyne, NC is the right decision.
Now it's up to you to decide which type of Alzheimer's care you'll choose for your loved one. You have plenty of options, from nursing homes to assisted living facilities to homecare providers. While you know what's best for your loved one, Alzheimer's care from Visiting Angels based in Ballantyne, North Carolina could be the perfect option.
Benefits of In-Home Alzheimer's Care
Do you really feel comfortable asking your loved one to relocate to a nursing home or assisted living facility? If your family member still largely maintains the ability to take care of themselves, homecare is probably the best choice. This allows your loved one to stick to their normal daily routine in familiar surroundings.
The chance to continue living at home helps your loved one avoid the emotional trauma of leaving their cherished residence. And with services from Visiting Angels, you get some much needed assistance helping your loved one cope with their illness.
Benefits of Choosing Visiting Angels for Alzheimer's Care in Ballantyne, NC
Not all homecare services are created equal. If you're looking for non-medical Alzheimer's care in Ballantyne, NC, consider what sets us apart.
Training
Visiting Angels is a trustworthy homecare service provider backed by our membership in the Alzheimer's Foundation of America (AFA). We offer formal training sponsored by the AFA to ensure our caregivers learn all the skills necessary to care for individuals with Alzheimer's, dementia and related illnesses. We also train our caregivers through a new membership division of the AFA called Dementia Care Professionals of America (DCPA). By qualifying our caregivers to provide a high-level of Alzheimer's care in Ballantyne, NC, we can better help individuals and families cope with this disease.
Personal Service
We know it's difficult to permit a stranger to enter your loved one's home. It's important to us that you feel comfortable with the caregiver providing Alzheimer's care in your stead. That's why we do everything in our power to make the transition from total independence to at-home Alzheimer's care as smooth as possible for your loved one.
We're totally invested in your family's health and wellbeing, so we provide you with a complimentary assessment and Care Plan formulated specifically for your loved one's needs. You also have the chance to handpick a caregiver for your loved one. Choose from our licensed and bonded care providers, each of whom is covered by worker's compensation and liability insurance.
Schedule a Free Consultation for In-Home Alzheimer's Care in Ballantyne
If the Visiting Angels' Alzheimer's care program sounds right for your loved one, please contact us to schedule a free consultation.
Serving Southern Mecklenburg & Union Counties
Visiting Angels
SOUTH CHARLOTTE, NC
1510-B Orchard Lake Dr
Charlotte, NC 28270
Phone: 704-841-1160
Fax: 704-943-0504