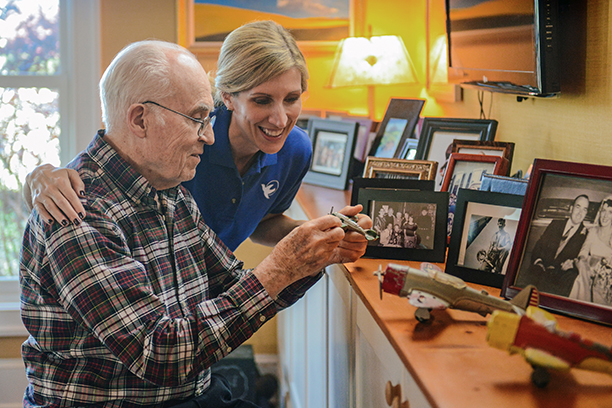 Alzheimers Services Waxhaw NC
Alzheimer's Care in Waxhaw, NC
If your parent, spouse or other close family member suffers from severe memory loss, confusion and other frustrating symptoms as they age, they might have Alzheimer's disease. Hearing the diagnosis may shock you and make you worry about what the future holds.
Will you set aside time to visit and care for your family member at all hours of the day? If you're a working adult with children of your own or you live states away, this may be impossible. Will you ask your loved one to move to a nursing home or assisted living facility? If your family member still has the ability to largely care for themselves, in-home Alzheimer's care in Waxhaw, NC could be the perfect compromise.
Benefits of In-Home Alzheimer's Care
Patients with Alzheimer's disease rely on their normal daily routine and familiar surroundings to help them hold onto memories. Asking your loved one to relocate to a nursing home or assisted living facility could trigger emotional trauma that you only want to avoid.
The chance to allow your loved one to continue living at home helps them cope with their illness. Plus, with Alzheimer's care in Waxhaw, NC provided by Visiting Angels, your loved one can receive expert respite care from qualified homecare providers.
Alzheimer's Care in Waxhaw: Our Process
At Visiting Angels, we do everything in our power to ease the transition from total independence to at-home Alzheimer's care. First, we offer a complimentary assessment and formulate a Care Plan designed especially for your loved one.
Then, because we know you probably don't feel comfortable permitting a stranger to enter your loved one's home, we give you the chance to handpick the caregiver who will provide Alzheimer's care in your stead. Choose from among our licensed and bonded care providers, each of whom has received extensive Alzheimer's care training and is covered by worker's compensation and liability insurance.
Choose Visiting Angels for Alzheimer's Care in Waxhaw
If you're looking for non-medical Alzheimer's care in Waxhaw, NC, Visiting Angels should be your first choice.
We are a trustworthy homecare service company backed by membership in the Alzheimer's Foundation of America (AFA). Our exceptional training standards set us apart from other caregivers in North Carolina. The formal training program we provide is sponsored by the AFA to ensure our caregivers learn everything necessary to properly and safely care for individuals with Alzheimer's disease, dementia and related illnesses.
Our caregivers also receive training through a new membership division of the AFA called Dementia Care Professionals of America (DCPA). Our stringent training techniques qualify our caregivers to provide high-level Alzheimer's care in Waxhaw, NC, allowing us to better assist individuals and families coping with this disease.
Schedule a Free Consultation for At-Home Alzheimer's Care
Homecare is the best option for semi-independent Alzheimer's patients who want to continue living in the familiar surroundings. If the Visiting Angels' Alzheimer's care program sounds like the right choice for your loved one, please contact us today to schedule your free consultation.
Serving Southern Mecklenburg & Union Counties
Visiting Angels
SOUTH CHARLOTTE, NC
1510-B Orchard Lake Dr
Charlotte, NC 28270
Phone: 704-841-1160
Fax: 704-943-0504