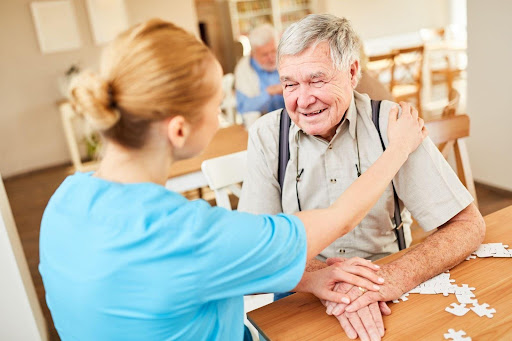 How to Address Older Adults' Changing Needs
Today, most older adults want to age in place. Unfortunately, only one in three adults ages 50 to 80 said their home had the necessary features to allow them to do so.
Our needs evolve as we age. While you might have had no trouble cooking or cleaning before, chronic health conditions can make it challenging to complete daily tasks.
Planning is essential if you want to stay home as you age. Continue reading for tips to accommodate your changing needs as an older adult.
Safety Concerns for Seniors
Mental and physical health conditions can increase a senior's risk of an accident. These conditions can make driving, walking, or performing everyday tasks difficult. Furthermore, a sudden fall, stroke, or other health emergency requires immediate medical care.
If you want to age in place, it's crucial to consider how you can receive the care and assistance you need. Visiting Angels' Scranton in-home caregivers can help you live life to the fullest while staying safe.
Cooking and Cleaning
Do you enjoy coming home to a tidy house? Love delectable, homemade meals? You might need help with daily chores like meal preparation and housekeeping as you age. If you live alone, gardening, grocery shopping, and laundry can become tremendous obstacles to overcome.
While your friends or relatives are always happy to lend a hand, you might feel like a burden. Caregivers can help you with everyday tasks like light house cleaning and meal planning. They can also drive you to the supermarket, doctor's appointments, and Sunday church service. When you hire an in-home caregiver, you'll always enjoy delicious and nutritious meals and a spotless house.
Feelings of Loneliness and Isolation
Much like daily chores, medical conditions may prevent you from seeing your family. You might feel unsafe driving or taking public transportation. And if you have limited mobility, getting around is tough.
While spending time alone is healthy, you shouldn't be alone all the time. This can make you feel isolated and lonely. While you can always call a friend or speak to your children on Zoom, nothing can replace face-to-face interactions.
Visiting Angels' caregivers also provide much-needed companionship. They're always excited to hear about your day, drive you to a friend's house, or participate in your favorite pastimes. Our companionship services alleviate feelings of loneliness. You'll always have a friendly person to talk to.
Personal Care
Shaving, bathing, washing your hair, and getting dressed help you feel and look your best. However, you might need help with these things as you age. Cognitive disorders like dementia also can make you forget.
An in-home caregiver provides dignified assistance with sensitive tasks like bathing, toileting, and dressing. They'll help you always feel fabulous.
Our In-Home Caregivers Will Accommodate Your Changing Needs
At Visiting Angels Scranton, PA, we are proud to offer compassionate caregiving solutions to the seniors of Scranton, Waverly, Pittston, and the surrounding areas of Wyoming, Columbia, Lackawanna, and Luzerne Counties. We've been delivering award-winning in-home caregiving services since 1998 and will help you age at home comfortably.
Want to learn more? Contact us today by calling 570-800-5270.