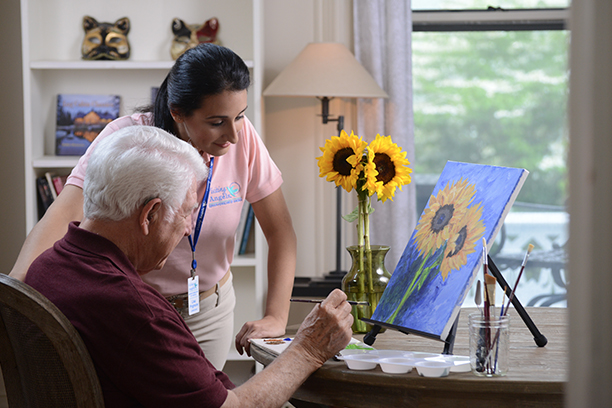 About Us: Visiting Angels Bloomington IN
Visiting Angels Bloomington IN provides professional, compassionate in-home senior care for families in Columbus, Nashville, Bloomington and the surrounding areas
We established our national home care agency in 1998 and have been devoted to providing nothing but the absolute best care to our many clients across the United States ever since. Featuring a franchise-based business model, we have many locations throughout the country - and each of our agencies makes sure to spread our mission and values, delivering top-quality senior care.
At Visiting Angels Bloomington IN, we share the same goal as our national brand: to make sure your loved one can remain at home as they age and stay as happy as healthy as possible. With us, you no longer have to worry whether your loved one can manage at home as they will have a reliable and devoted caregiver to take care of their every need whenever needed.
Qualified, Compassionate Caregivers
Speaking of caregivers, we understand that you want your loved one to get in home care from someone who is really trustworthy, professional, and caring. That may not be easy to find with other agencies, but by working with Visiting Angels Bloomington IN, you can remain in charge of choosing the right caregiver for your loved one. You are the one who will pick their care provider with our help, so your parent can truly enjoy their senior years to the maximum.
As all of our caregivers are qualified to offer all the services found in our care portfolio, you can rest assured that your parent's every need will be met on a daily basis. You can opt for temporary or long-term senior care, depending on what your family is looking for in a home care agency. Our team of professional caregivers are able to offer our services whenever it works for you - we can provide hourly care, overnight care, and round the clock care!
Customized Senior Care Plans
When it comes to our in home care services, we offer assistance with what is known as (incidental) activities of daily living. This includes everything from personal care, hygiene assistance, and medication reminders to meal preparation, light housekeeping, and running errands. We develop personalized care plans for each client, so your loved one will get the exact type and level of care they need for added comfort and safety.
At Visiting Angels Bloomington IN, we will work closely with your family from day one to find the perfect care solution for your loved one. We will constantly monitor our caregivers and talk to your loved one on a regular basis to make sure they are 100% satisfied with the services they are receiving.
Aging at home is the preferred option for most seniors, so if you are looking for a care option that will make your loved one happy and elevate their quality of life, you have come to the right place.
Serving Brown, Bartholomew, Johnson, Monroe, Shelby & Rush Counties including Bloomington, Columbus & Nashville
Visiting Angels
SOUTH CENTRAL INDIANA
1905 N Monroe St
Bloomington, IN 47404
Phone: 812-929-0428
Fax: 800-518-7866