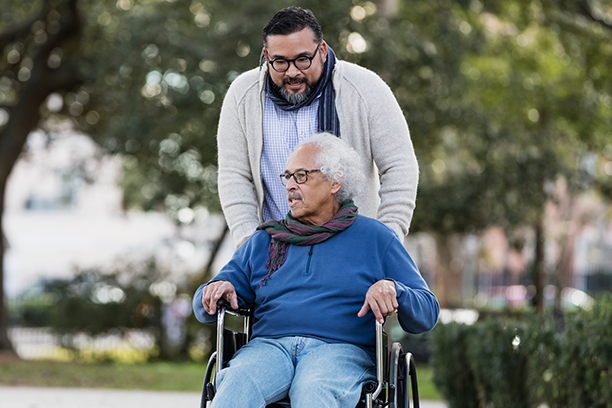 Compassionate End of Life Care from Visiting Angels
End of life care from Visiting Angels provides much-needed care and support to families in Columbus, Nashville, Bloomington and surrounding areas in Indiana as they deal with a senior loved one who is nearing the end of their life
End of life care is one of our specialized home care services in Bloomington, designed to cater to the needs of seniors at the end of their lives. Today, as more and more people choose to spend their golden years at home – and remain at home until the very end – it is important that families have these type of services at their disposal. Sadly, care that focuses on the end of life transition is commonly overlooked in the training process for both caregivers and health care providers.
At Visiting Angels, however, we believe that quality care and support has to be available to families when they need it. Through our services, we strive to make our clients as comfortable as possible in the final months, weeks or days of their lives, and we also help and support their family members during this challenging time. We do not provide hospice care, but we can work with hospice care providers to ensure your loved one has absolutely everything they need as they are about to make this transition.
End of Life Care Services
Family members diagnosed with a terminal illness often require some form of additional care. Usually, these care responsibilities befall on close family members. Needless to say, caring for a loved one in this condition can be extremely difficult, stressful, and overwhelming at times. You don't have to go through this alone. Visiting Angels can help make this time a bit easier for you and your family.
At Visiting Angels South Central Indiana, our end of life program is offered through our Life Care Navigation – a comprehensive collection of senior care services. We designed a program called Practical Care Tips for End of Life to serve as a blueprint for our caregivers who provide end of life care. The program provides valuable information and client-focused guidelines needed to support and assist clients and families during the end of life process.
Our caregivers provide non-medical care. They assist with personal and daily tasks, minimize discomfort, and offer compassion and conversation, reducing negative feelings such as loneliness, fear, stress or anxiety. In addition to being there for seniors, our care providers also ensure that family members get the help and rest they need by providing light housekeeping, meal preparation, and other homemaking services. Needless to say, our team is always available to guide or console family members.
Visiting Angels can provide your family with comforting care and support that make a real difference during this transition. To learn more about our services, please contact our office in Bloomington, IN today. We are here to answer any questions you may have and schedule a meeting with one of our client care coordinators.
Serving Brown, Bartholomew, Johnson, Monroe, Shelby & Rush Counties including Bloomington, Columbus & Nashville
Visiting Angels
SOUTH CENTRAL INDIANA
1905 N Monroe St
Bloomington, IN 47404
Phone: 812-929-0428
Fax: 800-518-7866