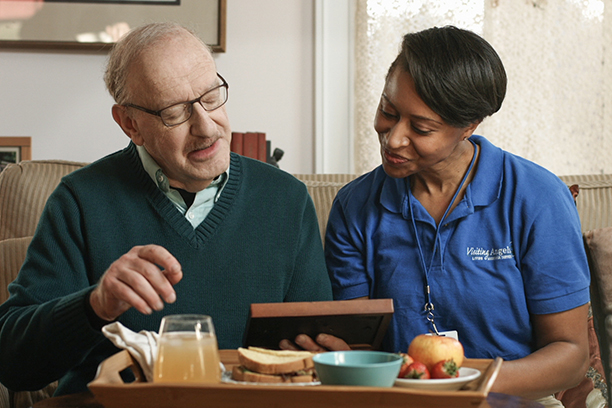 Fall Prevention through In Home Care Services for Seniors in Bloomington, IN
With in home care services from Visiting Angels,seniors in Bloomington, Columbus, Nashville and surrounding Indiana communities can stay safe in their own home
Falls are the main reason behind the loss of independence for many seniors and can significantly change one's quality of life. Apart from causing a physical injury, falls can impact a senior's life both emotionally and socially.
Unfortunately, many seniors develop the fear of falling, which often makes them feel too scared to leave the house, decline social invitations, and miss out important family gatherings. Over time, an unresolved fear of falling can have a much bigger impact on a senior's quality of life by causing anxiety, social isolation, and feelings of loneliness and depression.
However, the good news is that with Visiting Angels in Bloomington, IN, fall risks can be reduced to a minimum.
We offer a customized program specially designed to promote fall risk reduction and enhance senior mobility.
Falls Can be Life-Changing
Here are some statistics that will showcase just how serious falls can be for older adults:
Annually, one in every three older Americans experiences a fall. One in five sustains a serious injury such as a broken hip, fracture, and concussion.

Those who fall once are more likely to fall again.

In the United States, more than 800,000 individuals are hospitalized annually as a direct result of falls.

Recovery from a fall can take up to a full year in a long-term care facility or with the help of in home care services.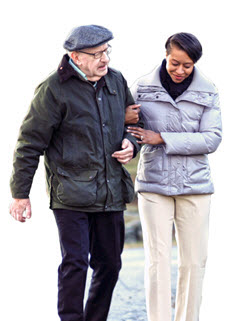 How In Home Care Services Can Help Reduce the Risk of Falling
Falls usually occur due to one or more risk factors. For the majority of older adults, these risk factors are linked to an existing physical condition which can affect balance, a medical problem of some sorts or an unfit home environment. Some of the high fall risk factors include poor eyesight, mobility issues, side effects caused by taking multiple medications, chronic conditions such as arthritis or osteoporosis, dehydration, and a lack of grab bars in key areas of the house.
By being able to promptly identify and address these risks in your loved one's surroundings, you can help them prevent falls and serious injuries.
Nonetheless, fall and injury prevention continues to present a considerable challenge to older adults. At Visiting Angels, we are committed to investing in educating seniors, their families, our caregiver staff, and other service providers on how to reduce falls.
Learn more about our fall prevention program and in home care services by contacting our Bloomington, IN office today. Visiting Angels is here to help!
Download Your Free Safe & Steady Fall Prevention Resource Guide today.
Serving Brown, Bartholomew, Johnson, Monroe, Shelby & Rush Counties including Bloomington, Columbus & Nashville
Visiting Angels
SOUTH CENTRAL INDIANA
1905 N Monroe St
Bloomington, IN 47404
Phone: 812-929-0428
Fax: 800-518-7866