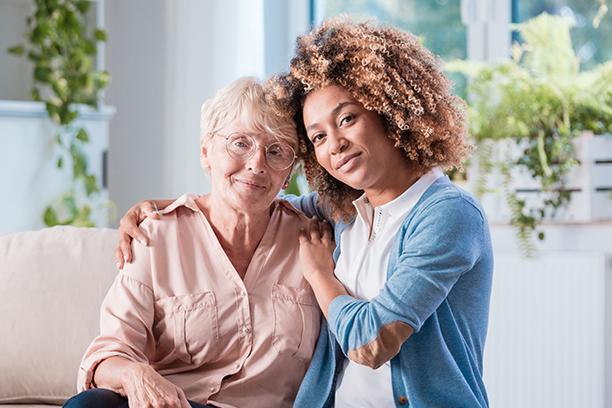 Frequently Asked Questions About Private Home Care Services in Bloomington, IN
Visiting Angels of Bloomington, IN can answer common questions about private home care services for seniors in Columbus, Nashville, and the surrounding areas
Q. What kind of in-home senior care services do you provide in Bloomington?
A: We are here to assist seniors with everyday activities so they can live independently in their own homes. We offer companion care and personal care services that may include fall prevention, medication and fluid reminders, light housekeeping, grooming or bathing assistance and running errands.
Q: What does "aging in place" mean?
A: When someone is able to live independently in their own home we say that they are able to age in place. It is the opposite of living in a nursing home. Sometimes when we use this term, we refer to the ability of a senior to stay in an assisted living facility with extra help.
Q: Do your caregivers provide assistance in assisted living facilities?
A: Yes, they do. Many seniors have discovered that the care they receive in such facilities is sometimes not enough to ensure independent living. In this case, our caregivers will provide that extra assistance and allow seniors to remain independent. In some states, seniors can hire caregivers to provide care in an assisted living facility.
Q: How quickly can private home care services be provided/started?
A: Most of the time, care can be provided within a 48-hour period, often even the same day.
Q: Can I change the schedule?
A: We understand that sometimes rescheduling is necessary. You can make any changes you want, we just need one week's notice. At Visiting Angels, your needs, schedules, requests and preferences come first, not the agency's. Therefore, we will always do our best to make sure that the schedule you want is the schedule you get.
Q: How do I start utilizing private home care services?
A: Contact our office in Bloomington, IN, by calling or completing our online contact form. When you contact us, our representatives will come to your home and conduct a free, no-obligation assessment. Afterward, they will learn about your care needs, preferences and goals and at your direction match you with caregivers who have the knowledge, skills, personality and availability to assist you. You will then be able to meet them and choose the one that will be working for you and providing the care and support your loved one needs.
For more information about our private home care services, contact Visiting Angels of South Central Indiana today!
Serving Brown, Bartholomew, Johnson, Monroe, Shelby & Rush Counties including Bloomington, Columbus & Nashville
Visiting Angels
SOUTH CENTRAL INDIANA
1905 N Monroe St
Bloomington, IN 47404
Phone: 812-929-0428
Fax: 800-518-7866