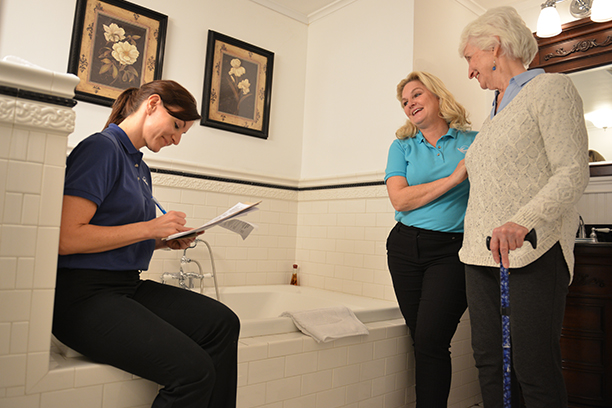 How In Home Elder Care from Visiting Angels Durango Helps with Senior Depression
According to estimates from the Centers for Disease Control and Prevention, around seven million adults over age 65 struggle with depression each year. As an experienced in home elder care agency, Visiting Angels® Southwest Colorado knows that if your loved one is among them, it can be difficult for them to manage. And if they're having problems with chronic health conditions, or losing the ability to care for themselves independently, it can exacerbate the problem.
But there is good news. With in home elder care services from a non-medical provider like Visiting Angels, your loved one can get more than just help with physical tasks and activities around the house. They can also benefit from:
Joyful companionship. Loneliness can often lead to depression. That's why simply having a trusted companion to talk to, share meals, and play games with on a regular basis can make all the difference in improving mental health and well-being.
Encouragement. As your loved one ages or grows depressed, they may lose interest or the ability to participate in hobbies they once loved. But an in home elder care professional from Visiting Angels Durango can encourage and help your loved one to get active once again and even try new things.
Engagement. In home elder care from Visiting Angels Durango can support your loved one, so they stay engaged with the community at large, as well as with their social circle. For instance, they can provide transportation to visit friends.
Social care. If they're unable to go outside the home, Visiting Angels Durango can also help them take advantage of technology – such as texting, social media, and video chatting – to stay connected with family and other loved ones.
Peace of mind. If your loved one is struggling to live safely and independently, an in home elder caregiver from Visiting Angels Durango can provide the assistance needed. Your loved one will therefore feel more confident and happier in their own home.
Learn More About In Home Elder Care from Visiting Angels
If your loved one seems depressed, irritable, listless, or restless, or they're losing interest in activities and hobbies they once enjoyed, then in home care can provide a solution. At Visiting Angels, our in home elder care services help those seniors who require regular assistance, but don't want to or need to relocate to a nursing home. We can ensure they maintain their independence and boost their overall quality of life by tending to the whole person - mind, body, and spirit.
To schedule a free consultation, call Visiting Angels today. We're here for families throughout southwest Colorado, as well as Alamosa, Durango, Cortez, Pagosa Springs, and the surrounding areas, with compassionate and knowledgeable in home elder care.
Serving Pagosa Springs, Cortez, Alamosa, San Luis Valley, Durango, CO & Farmington, NM Areas
Visiting Angels
SOUTHWEST COLORADO
301 N Pagosa Blvd #B10
Pagosa Springs, CO 81147
Phone: 970-264-5991
Fax: 970-264-5919