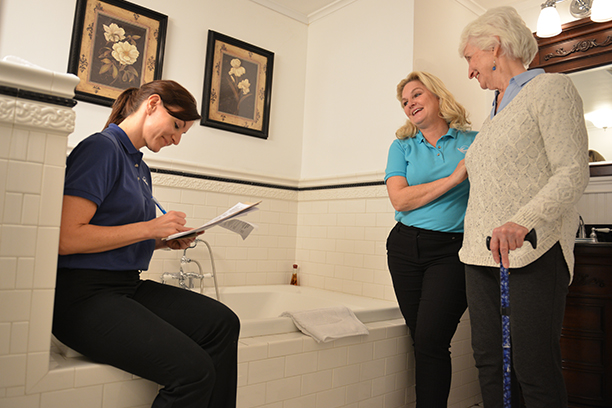 Home Care in Annandale
If you're looking for home care in the Annandale area, you need to know your loved one will be in good hands. At Visiting Angels® Springfield VA, we've devoted years to helping seniors and their families through our personalized home care services.
Our caregivers have earned a reputation for their compassion, competence, and their commitment to making each day brighter for their clients. We currently work with families across the wider Annandale region, including Burke, Falls Church, Fairfax, Bailey's Crossroads, Fairfax Station, West Springfield, and Springfield, Virginia.
Whether you need immediate support or are just starting to explore your options, our care professionals can help. For added peace of mind, all our caregivers have undergone a thorough background check and vetting process.
About Our Home Care in the Annandale Area
As a locally owned and operated care agency, we strive to uplift local seniors and their families giving them the support they need to thrive. Your elderly loved ones have their own unique care needs — and so does your family. From helping with everyday activities to stepping in for family caregivers, we offer home care services for every situation.
The home care services we offer in Annandale include the following:
Basic housekeeping
Enjoyable companionship
Family caregiver coverage
Dressing, bathing, and grooming aid
Walking support
Meal planning and cooking
Errands and grocery shopping
Medication reminders
Any family caregiver can tell you that caregiving is a job that doesn't take a break for weekends or holidays. Neither does our home care service. Our caregivers are available around the clock, so you never have to go without the help you need.
How Our Home Care Process in Annandale Work
Caregiving is personal. It depends on your loved one's condition, concerns, routine, and many other factors that can change over time. For that reason, our care professionals will guide you through the following steps to ensure your family's needs are met:
The first phone call: This is when you make initial contact with our office. At this stage, you'll be able to describe your general situation and inquire about our services, pricing, and overall approach to care.
The consultation: Next, we'll meet for a no-cost consultation. Our care professionals will be able to evaluate your relative's abilities, find out what they struggle with, and learn more about their personality and interests. You can also ask more specific questions about how care is provided and express your own desires or concerns.
Building a plan: The consultation will give us the information we need to propose a custom care plan that fully serves your family. It will include the exact kinds of support required and a personalized care schedule.
Finding the best caregiver: Once we know more about your loved one's personality and what types of care they need, we'll recommend the most compatible caregiver for your family.
What are Personal Care Services?
Are you already helping out with chores around the house? Do you worry that your loved one can't quite cope between your visits? If so, our personal care services can fill any gaps in care so your relative wants for nothing. Our caregivers can help out with any day-to-day tasks that are difficult, risky, or just more time-consuming than before.
As part of our care, we can offer the following personal care services:
Planning out and preparing balanced meals on schedule
Providing medication reminders
Tidying up and doing basic chores
Supporting your loved one as they walk, get up, or travel between places
Helping with dressing, bathing, and using the restroom
What are Companion Care Services?
Your loved one's level of social engagement is closely connected to their health and well-being. If your elderly parents doesn't get out as much because of mobility problems or a smaller social circle, they may become isolated or depressed.
Our home care services include companion care to keep our clients' spirits high while addressing their physical care needs. Our caregivers can keep your loved one company and engage them about their interests.
In addition, we offer social care to help your relative feel more comfortable using video chat technology and other applications to stay connected with friends and family they can't see as often.
What is Respite Care?
As much as you adore your family, caregiving can be overwhelming at the best of times. Whether you already feel at risk for burnout or you want more support before you reach that stage, we can help by providing respite care for family caregivers. Our care professionals can cover your duties on a temporary basis, so you can take some space and time to tend to your needs without fear or guilt.
Our Alzheimer's and Dementia Care
Seniors with Alzheimer's disease or another variant of dementia can benefit greatly from remaining in their homes — as long as they have the right support. Our caregivers have an in-depth knowledge of the symptoms and risks posed by cognitive decline, such as missing meals and medications, losing track of appointments, and wandering. We can create a stable environment and make sure your family member's needs are met.
Our Palliative and End of Life Care for Families in Annandale
Anyone with a serious health problem can receive our holistic palliative care to promote their physical, spiritual, cognitive, and social wellness.
The focus of our end of life care is to ease the discomfort of those facing the end of life transition while offering comfort and support to their families.
Our Fall Prevention Program for Seniors in Annandale
Worried that your loved one may suffer a fall when they're home on their own? More than one in four older adults fall each year, with potentially devastating results.
Our Safe & Steady Fall Prevention Program includes a risk assessment, walking support as needed, and recommendations to make your loved one's home safer.
Our Ready-Set-Go Home Program for Seniors in Annandale
The risk of being readmitted to the hospital is highest within the first month after discharge. Our Ready-Set-Go Home Program helps reduce this risk.
We can consult with your family and the medical team before your loved one leaves the hospital, then assist with any discharge instructions when they transition back home.
Get Started with Home Care in Annandale Today
Find out more about our home care in Annandale by calling Visiting Angels Springfield VA at (703) 569-2380. We can answer any questions and help you set up a free assessment for your family member.
Serving Springfield, Annandale, Burke, Falls Church and the Surrounding Area
Visiting Angels
SPRINGFIELD, VA
8136 Old Keene Mill Rd #A207
Springfield, VA 22152
Phone: 703-569-2380
703-569-2161
Fax: 703-569-2403