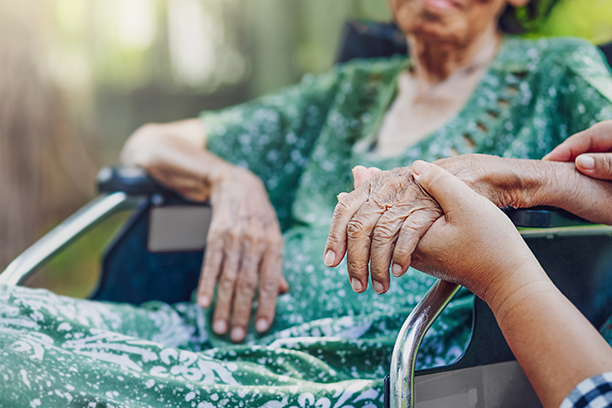 Home Care Seven Corners VA
Ensuring your loved one has what they need to live at home while growing older is possible thanks to home care. Through our comprehensive services for elderly adults in the Seven Corners area, we support seniors with aging in place and give their families the crucial peace of mind they seek.
At Visiting Angels® Springfield VA, we offer personalized assistance for elderly adults that makes it possible for them to take on their day-to-day challenges with confidence. Our services help older individuals maintain a lifestyle they enjoy while making aging in place an experience that is both safer and more comfortable.
We are constantly striving to improve the quality of life for seniors living throughout the Seven Corners area, as well as the family caregivers who work so hard to support them. We are deeply invested in assisting families in our local area by delivering high-quality home care in:
Seven Corners
And in other nearby towns
About Our Home Care Services in Seven Corners
The senior care process can be tough for family caregivers to manage on their own. With our help, you can reduce the burden of juggling the logistical, emotional, social, and physical aspects of caregiving. Thanks to our wide range of senior care services, you can have total confidence your loved one is receiving well-rounded support for all of their care needs.
For example, the types of assistance we can offer for seniors in the Seven Corners area can include:
Help with bathing and getting dressed
Buying groceries and running errands
Building relationships and starting conversations
Assisting with walking, mobility, and transportation
Providing precise reminders about medications
Covering for family caregivers who need a break
Preparing meals and doing light housework
Your loved one can receive support on any day of the week and at any time of day. We will assist you with building a customized schedule of care visits that not only fits your loved one's everyday routine but also gives you respite when you need to rest.
Our Home Care Process in Seven Corners
Getting started with care doesn't have to be a stressful or overwhelming experience. In fact, we aim to make sure each step of this process offers you relief from worry and bolsters your peace of mind. Our straightforward path to arranging care includes the following steps:
A call to our office. Let us know that your loved one is in need of home care and request a free consultation simply by calling our office.
A no-cost consultation. We want to learn as much as we can about your loved one to fully meet their needs, and we will begin this process during their free consultation. This conversation will cover the different aspects of care to answer all of your questions and start laying the foundation for a custom care plan.
A tailored care plan. We will gather your input as we provide recommendations for your loved one's care and outline a potential care plan that is tailored to their individual requirements.
A personalized caregiver match. We want your loved one to feel fully at ease with their caregiver. We will thus pair them with a professional who can not only deliver all the services they require, but will also be ready to build a personal connection with them.
Types of Home Care Available in Seven Corners
Take a look at some of the various senior care programs and types of assistance we can provide for your loved one throughout their aging in place experience.
Personal Care
As seniors grow older and struggle with mobility limitations or chronic conditions, everyday activities can become a real challenge. However, these issues don't always require a move to a care facility. Your loved one can enjoy full support with the activities of daily living such as bathing, dressing, and walking through our personal care services.
Companion Care
Even seniors who don't need direct physical assistance can benefit from having a dedicated caregiver by their side. Our companion care services are just right for elderly adults who can complete their routines on their own but would like a helping hand and more companionship.
End of Life Care
We provide calming care for seniors who are transitioning to the end of life stage. Our team can promote your loved one's comfort during this difficult time and create a peaceful environment in which your family can focus on making meaningful memories.
Alzheimer's Care and Dementia Care
If your loved one has received an Alzheimer's disease or dementia diagnosis, you may worry about their safety and well-being at home as the stages of the condition progress. We offer specialized services that address the challenging symptoms of Alzheimer's disease and the many other forms of dementia.
Safe & Steady Fall Prevention
Falls can cause severe injuries for seniors and often change the trajectory of their future. This is why we believe fall prevention should be a key focus for elderly adults. Through our fall prevention program, we offer mobility support, personal risk assessments, and tips for fall-proofing the home.
Ready, Set, Go Home Transitional Care
From exhaustion after a hospital stay to discharge instructions that are difficult to implement alone, there are many reasons why elderly adults face a higher risk for rehospitalization. We address this risk and work to minimize it by providing support with every stage of the discharge and assisting with the recovery process.
Palliative Care Services
Palliative care is a form of holistic care that offers uplifting comfort for seniors with ongoing medical prognoses. Our goal with these services is to assist seniors with enjoying life to the fullest while experiencing the compassion and emotional support they deserve.
Get Started with Home Care in Seven Corners Today
The home care your loved one needs to age in place is available through our local care agency. Simply reach out to us today by calling (703) 569-2380 and get started with a care consultation in Seven Corners free of charge.
Serving Springfield, Annandale, Burke, Falls Church and the Surrounding Area
Visiting Angels
SPRINGFIELD, VA
8136 Old Keene Mill Rd #A207
Springfield, VA 22152
Phone: 703-569-2380
703-569-2161
Fax: 703-569-2403