Find Work as a Caregiver in Sterling Heights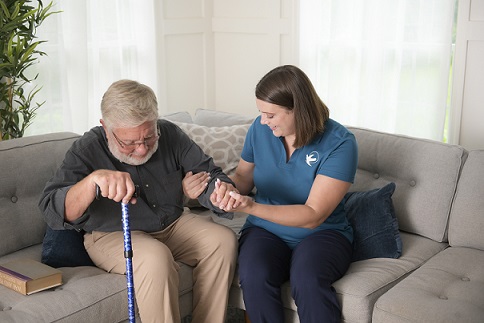 At Visiting Angels® Sterling Heights, we know the importance of caregivers and the impact they have on seniors who live independently. Our caregivers serve local seniors and help them live safe, healthy, and fulfilling lives at home. Our senior care agency is searching for local individuals who have a passion for elderly in-home care.
When you join our team, you will notice we pair our clients and caregivers based on professional and personal compatibility. You will form bonds and friendships with the clients you serve, helping you provide a high level of personalized care for each individual.
About Our Team of Knowledgeable, Compassionate Caregivers
We are seeking candidates who will ensure their clients are receiving the best possible care at all times. This includes everything from being prompt and reliable, to respecting clients and their personal preferences. Our caregivers exhibit a true passion for helping others, no matter what their needs may be.
At Visting Angels Sterling Heights, we focus primarily on helping seniors age in place. We provide assistance with daily tasks and chores around our clients' homes. Our caregivers must remain alert to any physical, mental, or emotional changes in their clients. This helps us respond with a higher level of support if needed. Communication is also vital, as caregivers are in constant contact with clients and their families.
As a caregiver in Sterling Heights, you will be performing the following services:
Light housekeeping and laundry assistance
Transportation for appointments and errands
Mobility assistance and fall prevention
Respectful personal care
Meal planning and preparation
When working with seniors who live independently, it is important to realize they may see you more often than family. Our caregivers offer companionship and emotional support to their clients. You will be a friendly face and confidant for the individuals you serve.
Join Us Today: Find Work as a Caregiver in Sterling Heights
Our team consists of local owners, staff, and caregivers. As such, we take pride in serving our community. We are hiring caregivers who can serve in the following areas:
Sterling Heights
Warren
Utica
Clinton Township
Shelby Township
And throughout the surrounding area
To find work as a caregiver in Sterling Heights, contact Visiting Angels Sterling Heights today. We offer extensive training and other ways to help you build skills as a caregiver. Our commitment is to guide you in providing care for the elderly in our community.