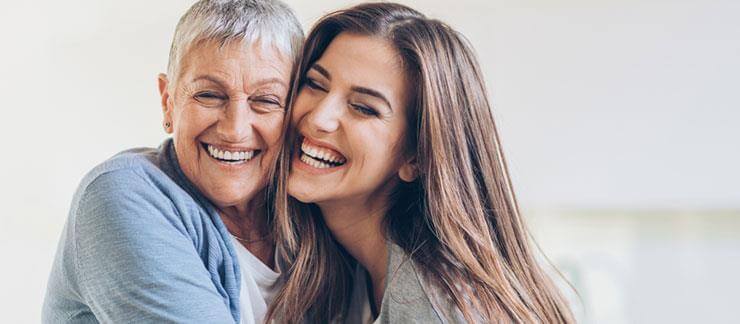 Here are the Critical First Steps in Evaluating Home Care for Your Loved One
Caring for a family member is among the most rewarding work you may ever do. But it can also be stressful and, at times, daunting.
Burnout is so prevalent among unpaid caregivers. It's natural. This is why some many families consider professional home care services as a viable solution. Of course, problems and solutions are never that simple. Just bringing up the topic with your loved one can be uncomfortable and may be met with resistance. Know this: It is a normal experience.
Start the conversation early, involve your loved one at every juncture and express your love and concern. This will go a long way in helping you navigate this delicate part of the caregiving journey.
Consider this your Roadmap to Care. You'll know where to turn for credible reviews, ratings, feedback and some tips to assess the intangibles when you are evaluating home care.
Determine What Kind of Home Care You Need
There are two kinds of home care services: 1.) Non-medical, in-home care and, 2.) Skilled, home health care. At some point, your loved one may need both.
Home care agencies send caring and compassionate professional caregivers into your loved one's home, allowing the person to remain in a comfortable and familiar setting.
This is well-suited for people who need help with daily activities like bathing, dressing, hygiene assistance, or fall prevention.
Professionals with home care agencies can also help with meal preparation or light housework, as well as appointment reminders, medication reminders and transportation.
If you are a family caregiver who is looking for relief, respite care service is one of the more popular reasons to seek home care.
Home health care, on the other hand, is focused on medical care with skilled health services. The goal of home health care is to treat an illness or injury.
Does your loved one need wound care, IV therapy or injections? How about physical therapy or monitoring of a serious illness? In those cases, home health care may be the answer.
Depending on your loved one's needs, it is possible that your loved one might benefit from a combination of both home care and home health care.
Evaluate What Others Say
Before you sign a contract or enter into an agreement, make sure to check ratings and reviews online to see what others say about the quality of care. You will also want to check government databases and your state's licensing requirements.
Many states conduct annual inspections and reviews, and most keep those records online or will provide access to those reports. In most states, these duties are required by the health department, but not always. Consult your local council on aging to find the agency that does this work and keeps these records.
Here are three top-rated sites to check for feedback, before you make a choice for your family:
Home Care Pulse
A private, third-party company that helps home care agencies track customer and caregiver feedback. It also pulls together that information and provides annual awards. View the state-by-state breakdown here.


Centers for Medicare & Medicaid Services Home Health Compare
If you're looking specifically for home health care, this is a searchable five-star rating database with information about the quality of care provided by "Medicare-certified" home health agencies throughout the nation. "Medicare-certified" means the home health agency is approved by Medicare and meets certain federal health and safety requirements. Data is updated four times a year. (Please note: There may be a lag of newly-certified agencies in the database.) To see if the agency is listed, you can check here. The information is available for download in various forms for ease of use.


Department of Health and Human Services
This federal agency reviews each state's requirements for conducting background checks of employees who work for home health agencies.
You have done your homework, checked the reviews and processed all of the feedback. Now it' time to ask the more nuanced questions.
Finding the right provider and caregiver for your loved one often means probing a bit deeper. You will want to find a caregiver who "connects" with your family member, one who exhibits deep caring and even one who shares similar hobbies or experiences.
Don't forget to ask the home care agency these questions in your evaluation:
Does the caregiver have any shared experiences with my loved one (are they a parent, did they serve in the military, do they like going to lunch, gardening or taking walks)?
Will you have a consistent caregiver or a care team?
Does the agency or caregiver use words like "compassionate" and "relationship" in their approach to care?
Do the agency and caregiver have a positive, can-do attitude?
Do you feel comfortable and at ease with the provider and the caregiver?
Does it feel right?
You may even have an opportunity to interview a specific caregiver. Click here for eight questions to ask that person and identify a great fit.
Learn more about what superior home care services look like.