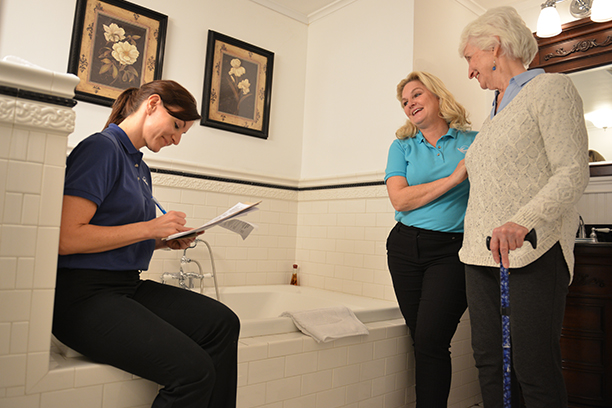 Dementia Care in Minneapolis
With at-home dementia care delivered by professional care providers, your loved one can live safely and comfortably at home while coping with the challenges of dementia. At Visiting Angels West Metro, we offer specialized services for seniors with cognitive disorders and tailor our home care plans to meet the unique needs of each individual. We'll match your loved one with a dedicated caregiver who can support them with daily activities and provide compassionate companionship, helping them maintain their quality of life while living with dementia.
About Our Dementia Care Services
There are different forms of dementia, from vascular dementia to frontotemporal dementia and Creutzfeldt-Jakob disease. These conditions each have their own causes, leading to varying symptoms and forms of progression.
You can count on our senior care experts to tailor your loved one's care plan according to their dementia diagnosis, lifestyle preferences, and established routines. Even after we create this flexible care plan, we can modify it over time whenever your loved one encounters new symptoms or experiences changes in their living situation.
Our range of dementia care services from Visiting Angels includes specialized forms of support for individuals who have been diagnosed with:
Young-onset dementia
Vascular dementia
Mixed dementia
Down syndrome
Frontotemporal dementia
Creutzfeldt-Jakob disease
Lewy bodies dementia
Parkinson's disease
Huntington's disease
Other forms of dementia
Setting Up Dementia Care
The benefits of our dementia care services aren't limited to seniors. We also make it possible for overwhelmed and overworked family caregivers to take a step back and get the rest and self-care they desperately need. If you're currently caring for a loved one with dementia, you may be running the risk of experiencing burnout. Don't hesitate to share the load with our care providers so your loved one can receive high-quality care at all times.
Learning more about getting started with our dementia care services is simple. We'll begin by arranging a free, no-obligation consultation with you and your loved one to lay a solid foundation for their care. After answering your family's questions, we'll start outlining a personalized care plan that covers all your loved one's needs.
Get started with professional dementia care for the Twin Cities/Minneapolis area today. Contact us to schedule a complimentary consultation or to sign up to start services with the contact form or by calling 952-935-0789
Serving Minneapolis, St Louis Park, Golden Valley, Richfield and the West Metro
Visiting Angels
ST LOUIS PARK, MN
5000 W 36th St #130
St Louis Park, MN 55416
Phone: 952-935-0789
Fax: 952-935-0778