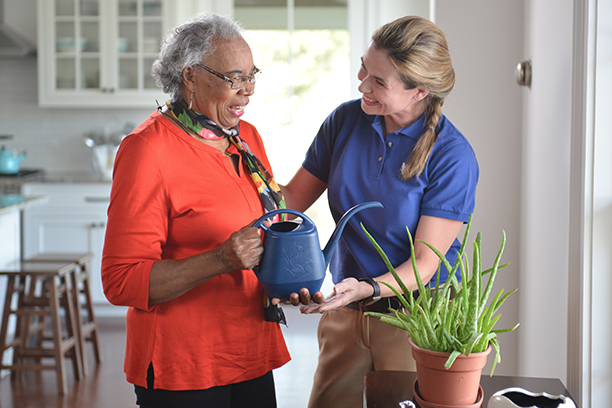 Frequently Asked Questions
Selecting home care for a loved one can be an overwhelming decision. There are many questions that arise when searching for the right home care agency. Visiting Angels can answer any questions that may assist you in making a decision that works best for you and your loved one. Below are some common questions we have been asked about senior care. If you have additional questions or would like to speak with one of our team members, please call 952-935-0789 or fill out our contact form and we will reach out to you!
Home Care Specific FAQ:
Caregiver Related FAQ:
What Are The Benefits of In-Home Personal Care?
In addition to aging in place, a professional caregiver provides many benefits, including:
A customized plan that reflects unique needs, requests and schedules
Companionship and social interaction that reduces the risk of isolation and depression
Flexibility to receive care when needed most
Lower home care costs when compared to assisted living or nursing home care
One-on-one, personalized care
Peace of mind that your loved one is receiving compassionate care from a trusted professional
Supervision and assistance that prevents falls, injuries, and other household accidents
How Is In-Home Personal Care Different From Home Health Care?
Home health care and in-home personal care are different levels of care. Home Health Care is medical care provided in the home by a trained and certified medical professional, such as a registered nurse, physical therapist, or occupational therapist. Visiting Angels' is a non-medical home care company that can assist with those delegated tasks under the supervision of our registered nurses. These tasks include assistance with medication administration, catheters, ostomies, compression stockings, modified diets, and more.

Non-medical home care services will provide your older adults with companionship and assistance with activities of daily living. These include things like grooming, dressing, bathing, toileting, light housekeeping, meal preparation, errands, etc.
Does Visiting Angels Provide Services to Seniors Living in Facilities?
Yes, we partner with most independent living, memory care and assisted living facilities. Staff members in assisted living facilities often care for more than one senior during each shift. Families often hire a professional caregiver to supplement the assistance provided by facility staff and, as needs change, adjust the duration or frequency of care for your loved one.
A Visiting Angels' caregiver provides additional support for your loved one, allowing them to remain in their current residence for a more extended time. Professional caregivers can reduce the need for seniors to move to another part of the facility where their independence may be curtailed and daily rates are higher.
We are also able to supplement facility care while the client is waiting for a room to become available. For example, if your loved one resides in independent living, but needs to move to assisted living, we can support them while they are on the wait list. Our caregivers also support facility staff if the client requires 1-on-1 care in order to remain in the facility.
How Do I Start Home Care Services With Visiting Angels?
The first step is to contact our office to schedule a free consultation to discuss your needs, answer your questions, and provide additional information about our services. If you choose Visiting Angels' for home care, the care coordinator will perform a complimentary home care assessment and develop a care plan that outlines the unique services for your loved one. We then identify caregivers with the skills, personality, and availability we feel will best assist your loved one.
Are We Obligated to Receive Services for a Specific Amount of Time?
There is no length of service obligation. Once services are started, we ask that you complete the agreed upon weekly schedule with a two-week notice of discharge.
How Are Services Paid For? Do You Take Insurance or Medicare?
Visiting Angels is a private pay agency. If the client is eligible for benefits from Long Term Care Insurance, it is the client's obligation to first pay Visiting Angels, then seek reimbursement from the third-party payor. Medicare covers skilled care after a hospitalization, transitional care stay or a change in condition that results in "home-bound" status. These services include visits from a Physical Therapist, Occupational Therapist, and Registered Nurse to manage the clinical need, but they do not provide assistance with the day-to-day, longer-hour support that an individual may need for fall prevention and assistance with their daily routine. Visiting Angels does not provide waivered services.
Does There Come a Time When In-Home Care Would No Longer Be Appropriate and a Move To a Facility Would Be Needed?
With the proper level of support, most clients are able to remain in their home, or place of residence, through end of life if that is their wish. In some instances, however, a move may be necessary or recommended. Your loved one's case manager can assist with these conversations and help make appropriate recommendations and/or referrals if needed.
What Services Do Caregivers Provide?
Visiting Angels provides dedicated companion care and personal care services to assist with everyday living activities so your loved one can preserve their independence while remaining comfortable and safe in their home. Home care services include, but are not limited to:
Companionship
Fall prevention
Grooming, dressing, bathing, and toileting assistance
Light housekeeping
Medication reminders
Meal planning preparation
Mobility and transfer assistance
Running errands
Does Visiting Angels Care for People Living With Alzheimer's Disease or Other Conditions?
Although Visiting Angels' caregivers do not provide medical care, they offer professional personal care services for individuals living with Alzheimer's disease and other medical conditions. If your older adult needs assistance with self-care tasks such as grooming, bathing, dressing, meal preparation, shopping/errands, and light housekeeping — or needs companionship and social interaction — a Visiting Angels' caregiver can help.
Many of our caregivers have personal or professional experience with Alzheimer's, Dementia and Parkinson's care and some have elected to pursue specialized care certifications from reputable industry organizations. Our organization proudly employs PAC Certified Independent Professionals who use approved methods and content from Teepa Snow and Positive Approach to Care.
Caregivers also receive specialized training through Visiting Angels' "Caregiver University" for conditions that include cognitive decline, congestive heart failure, and diabetes. If a caregiver notices any concerning symptoms or changes in your loved one's condition, they will alert their case manager, who will contact you with information.
Do You Care for Individuals on Hospice? Do You Provide "Hospice Services"?
While Visiting Angels is not a hospice agency, we provide care through the end of life in conjunction with hospice services. This means that your loved one's case manager at Visiting Angels will partner closely with the Hospice RN Case Manager to coordinate cares.
Hospice RNs will visit weekly, depending on the needs of your loved one. The focus of their visits is to assess your loved one's needs and adjust medication. Hospice may send a bath aid in one or two times per week for 1-2 hours at a time. A Visiting Angels' caregiver can assist with as many hours as needed, up to 24/7. They will assist with activities of daily living and comfort cares such as bathing, toileting, repositioning, medication reminders, etc.
Do Visiting Angels Caregivers Provide Transportation or Run Errands?
Visiting Angels' caregivers may provide occasional client transportation when they are available and weather conditions are suitable. If transportation is a service focus two or more times per week, we will refer the client to a non-medical transportation service. A Visiting Angels' employee may use his/her own vehicle to perform services for the client, but the client must be able to be left unattended while the caregiver runs errands on their behalf.
How Can We Communicate With Our Loved One's Caregiver?
The best way to communicate with the caregiver is face-to-face or through the office. All scheduling changes, change in condition, hospitalizations, questions or concerns should be directed to the office staff first. The office will then notify the caregiver of any necessary changes. A family member may also call the client's home while the caregiver is present to talk with them during their shift. We ask that our families and caregivers do not exchange phone numbers for privacy reasons and to maintain professional boundaries.
How Will the Caregiver Know What Needs to Be Done?
At the start of care, your loved one's case manager will complete a client assessment and develop an individualized plan of care. The care plan is made available electronically to your caregiver(s) who can view it at any time. Included in the care plan is a task list which caregivers are required to complete and document at each shift. The caregiver task list can be changed or modified at any time and/or as needs change.
Serving Minneapolis, St Louis Park, Golden Valley, Richfield and the West Metro
Visiting Angels
ST LOUIS PARK, MN
5000 W 36th St #130
St Louis Park, MN 55416
Phone: 952-935-0789
Fax: 952-935-0778