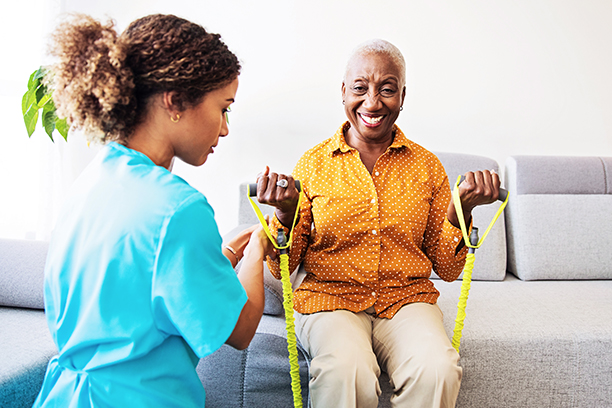 Personal Care in the Twin Cities
Personal care services from Visiting Angelsmakes life at home more manageable for clients with physical disabilities and chronic health conditions.
If your loved one has difficulty with personal tasks such as dressing or bathing, our caregivers will assist with these activities. Our services also include assistance for individuals with limited mobility and chronic illnesses, such as diabetes and Parkinson's Disease.
Our personal care services are available to seniors throughout the Minneapolis West Metro area in Minnesota.
More About Our Personal Care
At Visiting Angels we offer a wide range of in-home care services. Of these services, our two most common types of care are companion care and personal care.
With companion care, we provide a range of standard caregiving services, such as light housekeeping, meal preparation, and medication reminders. This makes companion care a good choice for those with basic caregiving needs.
In cases where clients have advanced caregiving needs, we will recommend our caregiving. Personal care from Visiting Angels includes all the basic services that you'd get with companion care, but it also includes skilled caregiving.
What makes personal care distinct from companion care is assistance with activities of daily living, also known as ADLs. Examples of these activities include:
Dressing
Grooming
Oral hygiene
Bathing
Mobility
Transferring
Positioning
Toileting
Our caregivers have the skills and experience to assist your loved one with as many of these activities as needed. In doing so, we'll make daily living more comfortable and manageable for your loved one. By providing these services, we can also assist individuals with long-term disabilities and chronic health conditions, including arthritis, diabetes, heart disease, and COPD.
Getting Started with Care
We know how overwhelming home care can feel for care recipients and their families. That's why we go out of our way to make getting started with home care as easy and stress-free as possible.
If you have a loved one in the Twin Cities needing personal care, we invite you to contact us and schedule a free consultation. This way, you'll be able to learn more about how we approach in-home care and ask us any important questions you might have. At the same time, we'll get to know you and your loved one, allowing us to develop a personalized care plan framework.
Check out our FAQ page for immediate answers to some common questions we hear from clients and families. Give us a call at 952-935-0789!
Serving Minneapolis, St Louis Park, Golden Valley, Richfield and the West Metro
Visiting Angels
ST LOUIS PARK, MN
5000 W 36th St #130
St Louis Park, MN 55416
Phone: 952-935-0789
Fax: 952-935-0778