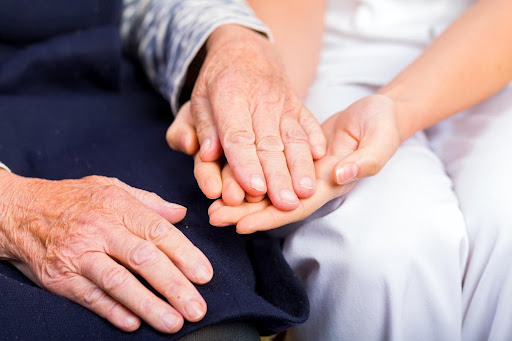 Understanding Hospice Care
Learning you or a loved one has a terminal illness is devastating. There's often a lot of physical, mental, and emotional stress during this time as you and your loved ones decide on the next steps.
Everyone's experience with a terminal illness is different, but hospice care is one option to relieve physical and emotional discomfort. November is National Hospice Care month. If you or a loved one is considering hospice care, now is the perfect time to learn what hospice care is and how it can help you and your family.
What is Hospice Care?
Hospice care is for those living with a life-limiting illness during the final stages of their life. The care provided in hospice care focuses on improving or maintaining the quality of life so an individual can live as comfortably as possible.
There is no timeline for when a person can receive hospice care. To qualify for hospice care, an individual must have an incurable disease or a condition they're no longer choosing to treat. Some medical professionals advise hospice care when a person is expected to live for six months or less, but many individuals receiving hospice care live longer than six months.
An important note about hospice care is that it doesn't have to be a permanent decision. A person can decide at any moment to stop hospice care. If individuals change their minds and want to continue treating the underlying condition, they can switch to palliative care. Palliative care still primarily focuses on providing a person with comfort during an illness, but the individual can still choose to receive medical treatment for their condition.
Is Hospice Care Right for You?
If you've been diagnosed with a terminal illness, your doctor may suggest hospice care. However, not everyone with a terminal disease chooses to receive hospice care. Instead of treating your condition in hospice care, your medical team will focus on treating and relieving your symptoms. If your illness is causing extreme pain or discomfort, hospice can alleviate those feelings so you can live your final moments comfortably.
Physical discomfort is not the only factor to consider when deciding if hospice care is proper for you. Hospice teams often work alongside home care agencies such as Visiting Angels and religious organizations to help you through emotional and spiritual needs. If you're feeling overwhelmed, anxious, scared, or angry, hospice care can help you overcome and express your emotions.
Hospice care is also an excellent resource for families. Many hospice care options include social workers and family counselors to help loved ones work through their emotions. A hospice team can also help guide loved ones through the following steps after hospice care.
How Visiting Angels Can Help
Visiting Angels St. Louis Park, Minnesota, does not provide hospice care, but our team can work alongside you or your loved one's hospice team to provide comfort and support through our End of Life Care program. This program focuses on the physical and emotional support of seniors living with a terminal illness and their families. Our team provides non-medical tasks to help make our client's final moments as peaceful and comfortable as possible. These tasks can include minimizing pain and other symptoms, personal grooming, and alleviating loneliness, anxiety, and stress.
Our St. Louis Park office serves Minneapolis, St. Louis Park, Golden Valley, Richfield, and the West Metro. If you'd like to learn more about our services, you can complete this online form or call us at 952.935.0789.