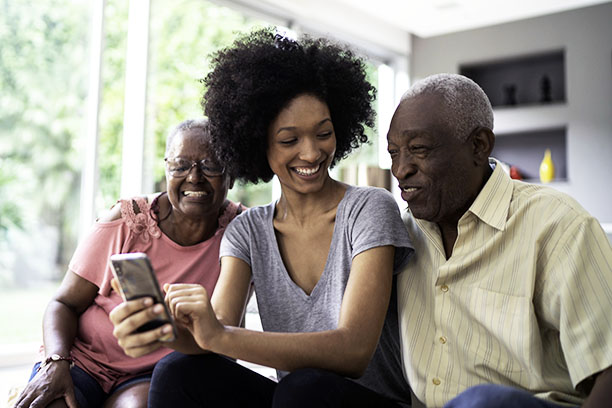 Social Care: Assistance Using Technology from a Visiting Angels of Stratham, NH Caregiver
Our Caregivers Help Seniors in Exeter, Portsmouth, and Surrounding Areas Learn About Technology
Technology is one of the many ways that we all connect with each other. With seniors, understanding technology is an important way to remain involved with our family, friends, and community. Facebook use among people 65 or older has risen 14% in recent years, according to AARP. 40% of seniors own a smartphone. In our social care, caregivers help seniors navigate modern technology so they can enjoy its many benefits, like connecting with grandkids on FaceTime and learning about a new hobby on Google.
At Visiting Angels of Stratham, we prioritize a holistic view of home care. This means that we prioritize care from all perspectives, including physically, mentally, socially, and spiritually. Boosting a senior's social interaction positively affects other parts of their life as well. For example, the National Institute on Aging reports that there is a positive correlation between social interaction and health. The study reveals that social isolation is a risk factor for mortality and morbidity, especially in seniors.
Studies promoting seniors and technology use include:
The University of Arizona found that 25% of their sample group of seniors improved their mental "updating" skills. The skills include memory and working skills.

Recent studies by the Washington, D.C based Phoenix Center have shown that surfing the internet can increase depression in seniors by as much as 20%.*

The Journal of Cyberpsychology, Behavior, and Social Networking found out that seniors who used social networking platforms such as FaceTime or Facebook reacted positively, measured by pupil dilation, brain stimulation, and breathing rates.
What Seniors Can Learn
During our senior care program, your loved one will learn many ways to use modern technology from our trusted caregivers. They include:
Interacting with friends and family on social media (navigating the website, creating an account, looking for friends, etc.)

Online shopping

Using a search engine

Using text and video messaging platforms (FaceTime, Facebook Messenger, email, text messaging, etc.)
Do you believe our social care program could benefit your loved one? Want to learn more about our caregivers can help your family? Contact our offices at your earliest convenience to learn more.
Because of this program, I was able to experience two of the greatest joys in life – becoming a grandmother and seeing my son become a new father. Skyping and Facebooking with my son and his family are now a normal part of my life. It helps me feel like I'm still an important part of their lives even though I'm miles and miles away.

* Washington, D.C. based Phoenix Center
** Journal Cyberpsychology, Behavior, and Social Networking
Serving the Seacoast of New Hampshire
Visiting Angels
STRATHAM, NH
118 Portsmouth Ave #B2C
Stratham, NH 03885
Phone: 603-583-4890