Elderly Care in Owasso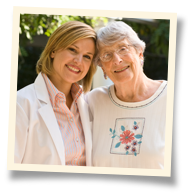 Caring for an aging relative is the ultimate labor of love, but there may be limits to what you can do for a loved one — especially as their needs start to grow. At Visiting Angels® Tulsa, we offer compassionate in-home elderly care in Owasso and the surrounding areas to address whatever needs you're unable to meet so that your relative can still live safely and comfortably at home.
Our dedicated team of elderly care professionals in Owasso are adept at providing quality home care that is tailored to the unique needs of our clients. We have years of experience assessing our clients' needs and working with their families to create custom plans. At Visiting Angels Tulsa, we do more than meet the basic needs of our care recipients — we provide the exact level of care required to give them greater comfort, enjoyment, and independence.
In addition to creating personalized care plans, through our Select Your Caregiver® program we give our clients the opportunity to meet and approve of the care professional we've selected for their care. Every one of our caregivers has gone through an in-depth vetting process and background check, so we can guarantee they have the right background and temperament to provide the support your loved one needs — and to help them feel more at ease.
The Services We Offer for Elderly Care in Owasso
At Visiting Angels Tulsa, we can assist your loved one in a variety of ways, and can adjust their custom care plan at any time to best meet their needs. Seniors in the Owasso area can benefit from the following services at any time day or night:
Hygiene and grooming aid
General housekeeping
Personal care
Assistance with errands
Meaningful companionship
To understand what your loved one needs — and how we can complement your own caregiving efforts — we offer a free, no-obligation consultation at your relative's home. There, we can learn everything we need to about their preferences, lifestyle, existing support, and environment so we can maximize the benefits of their elderly care plan.
Visiting Angels Tulsa Cares for Seniors Across the Owasso Area
Through our elderly care in the Owasso area, we strive to help local seniors age in place and on their terms. We're proud to offer our custom care services to families in the following areas:
Owasso
Bixby
Broken Arrow
Tulsa
Jenks
Contact Visiting Angels Tulsa now to schedule your no-cost consultation and find out more about our elderly care in Owasso.