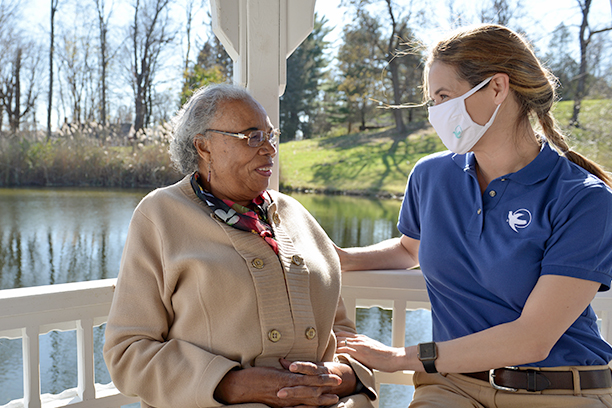 Emergency CNA Training Because of COVID-19
Nurse Aide and Nontechnical Services Worker Registry
There is a great opportunity for you to get training to become a CNA WITHOUT having to pay the normal $600 to $800 it would cost to do it!
Because of the COVID-19 Pandemic, you are being allowed to participate in a special online training course, then do your "Skills Testing" at our office with our nurse. Then at a later date you would go to a local Career Tech and take the written test.
Here are the details… But know this… Visiting Angels is basically reimbursing you for all of the costs! And you will be moving up in salary about $1.50 to $2.00 per hour!
Temporary Nurse Aide Training
Go to the website below and take this eight hours of training. If you do not have a computer, come into our office to watch the videos. Just call and make an appointment 24 hours in advance. At the end you will take a test. You must pass the test and print out the certificate. You bring a copy of the certificate to us to be kept in their personnel file. Feel free to keep a copy for yourself! This website and class are free, but you do need to set up a password and have and login.

https://educate.ahcancal.org/products/temporary-nurse-aide

Alzheimer's Dementia Training

After taking that online course, you need to read the dementia training at the link below and take a test we will provide. You will need to sign a form stating you have read the 10 hours dementia training workbook online. You can click download if you can't find it.

https://digitalprairie.ok.gov/digital/collection/stgovpub/id/282880/rec/1

You need to download a copy of the study book that has the study material for the curriculum.

https://www.ok.gov/health2/documents/NATCEP%20OK%20Core%20Curriculum%20072508.pdf

Skills Testing

You will need to pass the skill check list with one of our RN's in our office. You will need to schedule this several days in advance by calling our office. The skills are included in the workbook above. The link above is where you can find the check list that needs to be signed by an RN.

https://www.ok.gov/health2/documents/Skills_Performance_Checklist_Model%203.23.20%20Draft-SMW.pdf

Updating Your OK Screen Background Check

Our office will need to change your status on OKScreen Background Check status as "Technical, Unlicensed Health Care," and in the position of "Nurse Aide in Training." This enrollment shall serve as the registry for Nurse Aide Trainees.



Submitting Paperwork to Nurse Aide Registry

Our office will collect the following paperwork from you:

Temporary CNA certificate
Skills Checklist signed by RN
"Proof of Dementia Training" (Our office will create this form for you from our agency).

Our office will send this paperwork and the application form into the Nurse Aide Registry. After schools have reopened, the Nurse Aide Registry will mail the caregiver a form to take with them to get tested at a Career Tech Campus. Those instructions are here.
https://www.ok.gov/health2/documents/How%20to%20become%20certified%20after%20waiver%205.4.20%20.pdf
This is a copy of the form that we will send into the Nurse Aide Registry after completing the in-house course and AFTER the lifting of the emergency certification.
https://www.ok.gov/health2/documents/Training%20Exception%20Emergency%20Waiver%20Application%20(limited%20to%20waiver)_4.29.19%20DRAFT%20Fillable.%20docx.pdf
Directions from the Nurse Aide Registry for CNA's Who Receive This Training
"When the waiver is over the trainees have 120 days to test. They will need to fill out a Training Exception and send into the Nurse Aide Registry along with the signed copies of the documents we requested you to keep in their files on training. We will then give them a letter to test at any testing center or career tech testing they would like to test."


Vicki Kirtley
Administrative Program Manager, Nurse Aide Registry
Home Care Administrator Registry, Oklahoma State Department of Health
vickik@health.ok.gov (405) 271-4085
The cost for this testing will be approximately $125.
You will pay for it, and when you pass the test, Visiting Angels will reimburse you for the test!
YOU GET YOUR CNA CERTIFICATION, PERMANENTLY, FOR FREE!
Serving Tulsa, Owasso, Broken Arrow, Jenks and Bixby
Visiting Angels TULSA, OK
1532 S Peoria Ave
Tulsa, OK 74120
Phone: 918-609-5600