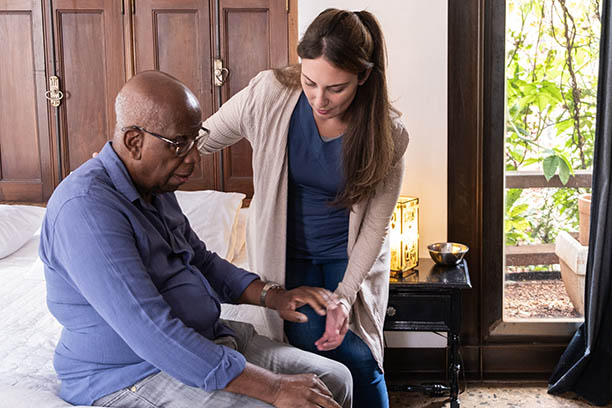 Visiting Angels Claremont Provides Palliative Care for Seniors
Palliative care at home is designed to relieve discomfort and stress related to serious illnesses and health conditions. Visiting Angels of the Upper Connecticut River Valley provides this care to elderly adults who are living with a serious illness, such as the following, and want to receive compassionate, skilled care in the comfort of their own home.
Cancer
Heart Disease
Kidney Disease
Alzheimer's Disease
Amyotrophic Lateral Sclerosis (ALS)
Parkinson's Disease
Chronic Obstructive Pulmonary Disease (COPD)
Other serious health conditions
In addition, we also offer a dedicated program for end of life care.
Palliative Care Services for Seniors in Keene, Brattleboro, and Nearby Cities in the Upper Connecticut River Valley
At Visiting Angels of the Upper Connecticut River Valley, we take a holistic approach to palliative care services at home. Other care providers focus primarily or exclusively on a person's physical care needs, however Visiting Angels of the Upper Connecticut River Valley goes beyond the traditional scope of these services. We create a comforting and supportive environment, restoring hope and assisting in the healing process.
Our caregivers will focus not only on your loved one's physical comfort, but also their emotional, social, and spiritual well-being. Through our Palliative Care Certification Program, we offer care with a focus on the following four areas:
Physical Needs
Our caregivers focus on your loved one's physical health and personal comfort. Often, we coordinate care with input from doctors, nurses, or other medical professionals.


Emotional Needs
We find ways to make daily life more enjoyable, help clients maintain favorite routines, and address depression, stress, and anxiety.


Social Needs
Our caregivers develop close relationships with individuals and their families. We provide companionship and conversation to relieve feelings of loneliness.


Spiritual Needs
When providing palliative services, we strive to restore hope for your loved one and family, helping you find peace of mind during difficult times.
Visiting Angels of the Upper Connecticut River Valley for In-Home Palliative Care
If you are considering palliative care for a loved one, we invite you to contact our office to learn more about our palliative services and request a care consultation.
Before getting started with care, Visiting Angels of the Upper Connecticut River Valley will provide your family with a free consultation that allows us to learn more about your loved one's situation, which will help us design a personalized senior care plan for your loved one.
Learn more about our at home care services and request a consultation today bycalling 603-504-6080.
Serving Brattleboro to Hanover and the Surrounding Communities
Visiting Angels
UPPER CONNECTICUT RIVER VALLEY, NH
24 Opera House Square Ste 209
Claremont, NH 03743
Phone: 603-504-6080
Fax: 603-287-8495