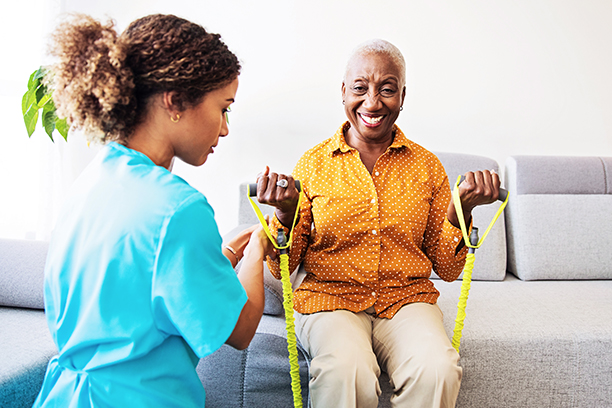 Visiting Angels Provides Home Health Care After Hospital Visits to Seniors in Claremont, NH and the Surrounding Area
Reducing Hospital Readmissions: Ready, Set, Go Home
"Ready, Set, Go Home" is a transitional care program created to help our seniors return home successfully after being hospitalized, as well as to help reduce the risk of rehospitalization. On average about 20% of today's seniors on Medicare are re-hospitalized within 30 of being discharged. Being hospitalized is incredibly stressful for aging adults as well as for their loved ones. For most seniors, it is common to have a decline in functionality after being hospitalized, impairing their independence and life quality. This leads to even the most basic tasks becoming overwhelming and exhausting to perform. At Visiting Angels, we are fully committed to reducing the hospital re-admissions through our "Ready, Set, Go Home" program. It was created to ensure the best outcomes to provide our clients with essential personal home health care services that follow hospitalization.
Our Discharge Guide to Prepare for Your Return Home
We have important questions outlined in our "Ready, Set, Go Home" discharge guide as a tool for patients to use while still in the hospital or rehab center to better prepare themselves for returning home. The guide is best used to record any information discussed during discharge plans with your healthcare provider, identifying areas that may require assistance as well as determine who (family, friends, neighbors and/or Visiting Angels) can assist and coordinate their home health care. We are able to have the Visiting Angels team visit seniors in the hospital and make sure that there is a plan in place before discharge happens, ensuring that everyone has a peace of mind moving forward. With the input from seniors, loved ones and healthcare providers, we individualize care to meet their specific needs. Once home, seniors are able to use their Ready, Set, Go Home discharge guide as a reference to important information and notes from their health care providers. This guide should be brought to any follow up appointments following being discharged, this helps them keep a comprehensive record of instructions and reminders of questions asked to their healthcare provider.
Call to Schedule a Free Consultation
If you find you or your loved one in need of home health care after a hospital stay, reach out to Visiting Angels today to learn more about our Ready, Set, Go Home program. Request a free home care consultation by calling 603-709-4901.
Serving Brattleboro to Hanover and the Surrounding Communities
Visiting Angels
UPPER CONNECTICUT RIVER VALLEY, NH
24 Opera House Square Ste 209
Claremont, NH 03743
Phone: 603-504-6080
Fax: 603-287-8495