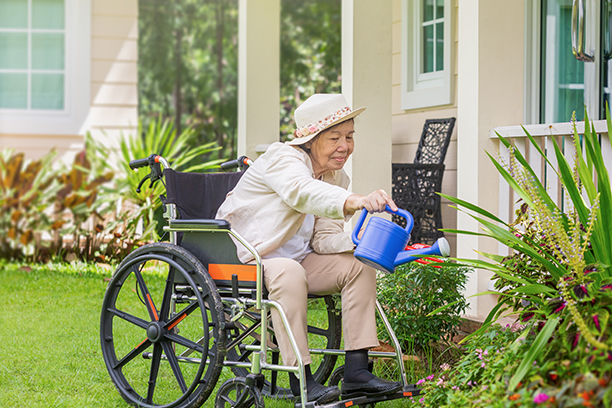 Fall Prevention and How a Home Health Aide Can Help Your Loved One in Claremont, NH and the Surrounding Area Avoid Falls
Fall Prevention Program for Seniors in Keene, Brattleboro, and Nearby Cities in the Upper Connecticut River Valley
Visiting Angels Safe and Steady fall prevention program is available to seniors that are wanting to avoiding slips, trips, and falls at home. When a fall is prevented, an individual's risk of getting hurt is reduced. Injuries from these kinds of accidents are a major reason that seniors lose their independence. This is why we provide fall prevention from a home health aide to help seniors age in place.
Why Fall Prevention for Seniors is Important
Visiting Angels® home health aide providers are dedicated to keeping seniors in their home as they age, allowing them to stay in the space that makes them feel safest, happiest, and most comfortable. Fall prevention is so important to us, it's basically engrained to our DNA.
Statistics show that seniors fall more often than younger adults—1 in 3 seniors have a serous fall each year. These falls are all resulted from numerous risk factors that are less common for younger adults, including:
Decreased strength

Poor coordination

Limited mobility

Reduced eyesight

Hearing loss

Stiff or painful joints

Health complications

Cognitive disorders

Multiple medications
Serious injuries occur after falling; in most cases these injuries lead to life-altering or threatening side effects. The most common injury is a hip fracture; the recovery time for this injury can take up to a year and may require transitional care to help with complications. Typically, seniors never fully recover from a hip fracture which can lead to the loss of independence.
Thankfully, these falls can usually be prevented. Visiting Angels Safe and Steady program is a tool for you to use to reduce your loved one's risk of slipping, falling, or tripping in the most common locations—the home.
How to Prevent Falls at Home for Seniors
Dangerous falls account for more than 75% of in home accidents. Simply put: most falls are prevented with precautions around the home. We identify risk factors that are possible in your loved ones home in our Safe and Steady Fall Prevention Resource Guide.
This guide includes key information about:
Physical, social, and emotional health impacts of falls by the elderly

Environmental risk factors that increase the likelihood of falls at home

Precautions you can take to eliminate fall risks from the home

Design changes that can reduce seniors' risk of an at-home fall

Lifestyle changes that can further reduce fall risks for seniors
This list includes a 59-point home safety checklist, as well a list of modifications for the home to help reduce the risk of falls.
Get Started with Visiting Angels of the Upper Connecticut River Valley
Our dedication to preventing falls extends to our home care services from a home health aide. We have home health aide providers that work diligently to reduce the risk of falls in multiple ways, all depending on the type of home care your loved one is needing. Companion care is used to maintain a safe and tidy home while helping with day to day tasks that may lead to falls. If your loved one is struggling with physical health issues that make them high risk for falls, we recommend our personal care services—this care helps our personal care services can help with activities such as dressing, bathing, and mobility. Fall prevention is also an important part of several other Visiting Angels programs, including our Alzheimer's care, dementia care, and Ready-Set-Go Home transitional care services.
Ready to get started with our Safe and Steady fall prevention program with a home health aide? Call 603-709-4901 to schedule a free consultation.
Download our free "Safe & Steady Fall Prevention Resource Guide" today.
Serving Brattleboro to Hanover and the Surrounding Communities
Visiting Angels
UPPER CONNECTICUT RIVER VALLEY, NH
24 Opera House Square Ste 209
Claremont, NH 03743
Phone: 603-709-4901
Fax: 603-287-8495