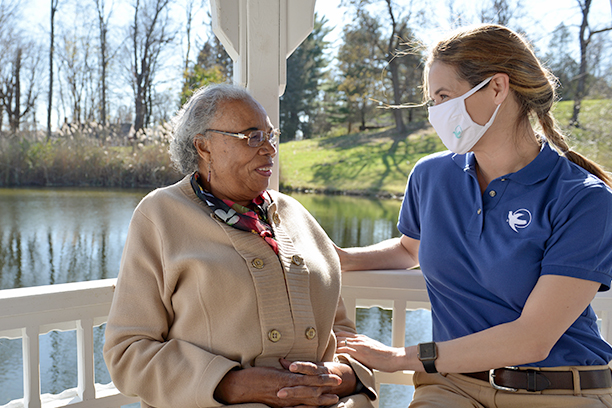 Senior Home Care Services in Waynesboro, PA and the Surrounding Areas
Visiting Angels of Waynesboro Provides Personalized Senior Home Care Services
At Visiting Angels, our senior home care services include a range of specialized care plans that can be customized to meet the needs of each client. We call this service our Senior Life Care Navigation™ program. At the core of our senior care program is our desire to help restore hope to our clients by focusing on their physical, emotional, and spiritual needs. We accomplish this by creating a strong relationship that keeps the communication flowing between their health care providers, our clients, and their caregivers. Our Life Care Navigation™ was developed for seniors in need, to provide the compassionate care they need during their golden years.
Our Senior Home Care Services Include:
ALZHEIMER'S CARE

Care services that make it easier for your loved one to continue living independently at home, where they can enjoy their daily routines and in a familiar home.

DEMENTIA CARE

Our caregivers strive to provide their clients with dementia improved quality of life.

COMPANION CARE

Our Companion Care program provides our senior care clients with a professional caregiver who can help with things like preparing meals, running errands, engaging in their favorite hobbies and many other tasks that make it possible for them to continue living independently at home.

PERSONAL CARE

As part of our senior home care services, we work hard to pair your loved one with a skilled caregiver who matches their personality and can provide a wide range of personal care services in their home.

PALLIATIVE CARE

Our Visiting Angels caregivers provide senior home care services aimed at supporting your loved one's emotional, physical, spiritual, and social needs.

END OF LIFE CARE

Providing a wide range of services and support for our clients and their families at this difficult time of life.

SAFE & STEADY FALL PREVENTION PROGRAM

Falls are the most common reason seniors lose their mobility and independence!

READY-SET-GO HOME – AVOIDING READMISSION TO THE HOSPITAL!

Making it possible for seniors to stay home rather than deal with costly readmission into the hospital.

Teaching seniors to make use of the latest technology and social media to help them stay mentally active and engaged with family, friends, and the world.
Contact Visiting Angels
Our mission at Visiting Angels is to provide both our caregivers, our clients, and their families with continuing education needed to provide superior home care services. Our Senior Life Care Navigation™ ensures that all forks in the road lead back to the homes of our clients in Waynesboro and the surrounding areas. Contact our agency today at 717-749-0458 to schedule a free, in-home assessment.

Serving Waynesboro, Greencastle, & Southern Franklin County
Visiting Angels
WAYNESBORO, PA
10764 Buchanan Trail E
Waynesboro, PA 17268
Phone: 717-749-0458