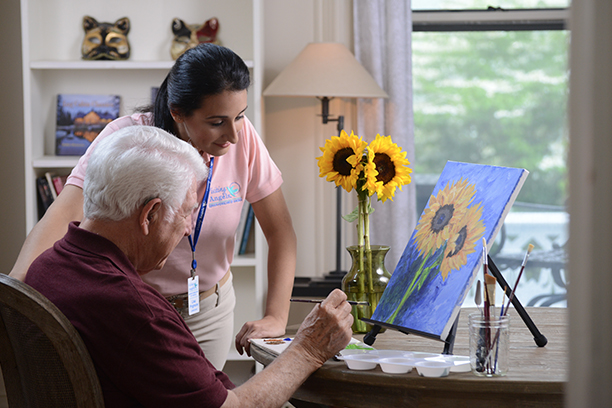 Capital Region Visiting Angels Receives Award
The Visiting Angels of Albany agency was recently honored at the National Annual Conference held in Baltimore, MD in July of 2013. The agency won the "Rising Angel Award" from its national corporate office located in Havertown, PA. This award was given to the Albany-based agency because of its excellence in providing quality at home senior care to seniors and the disabled, outstanding revenue growth, incredible business acumen, and community service since January of 2012. The team of Visiting Angels of Albany has gone above and beyond in exceeding expectations and providing quality care to the Albany community.
Visiting Angels provides at home senior care for seniors and disabled across the nation. The agency provides a wide variety of senior care services including companion care, personal care, Alzheimer's care, dementia care, and end of life care. Each type of care is specialized for each client in an effort to elevate their quality of life and ease discomfort.
This comprehensive at home senior care includes meal preparation, medication reminders, transportation, housekeeping, safety supervision, companionship, and recreational activities. The company strives to provide families across the nation with a cost-effective, compassionate alternative to nursing homes and assisted living facilities.
Visiting Angels of Albany was selected from over 50 locations worldwide. The agency is led by a team of healthcare professionals led by Robert Coan, RN of Bethlehem, and Robert Bertram, RN, of East Greenbush.
The C.O.O. of Visiting Angels, Pat Drea, RN, is a nationally recognized expert, advocate, and speaker on issues involving senior home care. Drea is also a native of Syracuse, NY. She announced the Capital region award during the national conference. The office manager of Visiting Angels of Albany, Riva Mackey, accepted the award.
Visiting Angels of Albany can be reached at (518) 389-2999, on the internet at: www.visitingangels.com/albanyny, and followed on Facebook at https://www.facebook.com/CapitalRegionVisitingAngels
Serving the Capital District
Visiting Angels
ALBANY, NY
1510 Central Ave #330
Albany, NY 12205
Phone: 518-389-2999
Fax: 518-389-2521