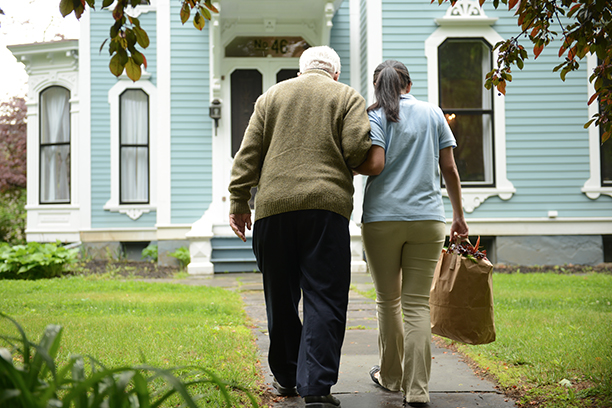 Personal Care Services for Seniors in Annapolis, MD and Surrounding Areas
Most older adults nowadays choose to spend their senior years at home. While it is completely understandable that people wish to age at a place they love and that brings back so many memories, continuing an independent lifestyle at home does come with many challenges for the elderly. One of those challenges is maintaining personal care and hygiene, especially as health and mobility begin to deteriorate.
At Visiting Angels Annapolis, we provide personal care services designed specifically to help older adults in Annapolis, Glen Burnie, Millersville, Pasadena, Crownsville, Arnold, Severna Park and throughout Northern Anne Arundel County with taking care of themselves. We assist with hygiene in a dignified way, always making sure our clients are safe and comfortable. By doing so we do not just enable them to continue living at home on their own but elevate their quality of life, too.
Does My Loved One Need Assistance with Their Personal Hygiene?
Before you consider professional personal care services, it is important to determine whether your loved one needs assistance and make sure in-home care is something they could benefit from.
"The caregiver my father had for three days until he went into the hospital was great. I cannot convey how fortunate my family feels to have had her care for my dad. I was nearby when she gave my dad a nice warm sponge bath and massaged lotion into his dry skin. She truly is an angel, and please give her our gratitude. We are really fortunate that you provided us with a caregiver within hours of our initial phone call. I have already recommended Visiting Angels to others."
- Bamu G.
It is relatively easy to decide if in-home personal care services are right for your loved one. Just look for signs of poor hygiene, such as strong body odor, disheveled appearance, disregard for clothes, and others. If your mom or dad was once super conscious about their appearance and now forgets to change their clothes a couple of days in a row, does not shave regularly or does not put on any more makeup, personal hygiene assistance may be the right solution for them.
At Visiting Angels Annapolis, we can provide your parent with customized personal care services and assist with their hygiene needs.
How Our Personal Care Services Help Seniors in Annapolis and Surrounding Areas
Maintaining proper hygiene ensures both good health and self-confidence. If your loved one cannot bathe on their own, they may develop odors, rashes and other skin problems, not to mention that these issues often come with emotional distress. With personal care services from Visiting Angels Annapolis, however, all these problems can easily be solved.
Our personal care services include assistance with:
Dressing
Wearing clean clothes is a crucial aspect of personal hygiene. Many elderly people find it more challenging to dress themselves as they age. If your loved one wears the same clothes on several occasions, this could make them feel embarrassed. In addition, if they're prone to developing skin infections, they may want to avoid wearing unclean clothing. When it comes to choosing an outfit, our caregivers can help your loved one choose something that is clean, comfortable, and suitable for the weather. We are also able to assist them with getting dressed, ensuring that they do not hurt themselves or struggle with the process.
Bathing and Showering
In order to keep one's personal hygiene in good standing, it is essential to take regular baths and showers. It's a great way for elderly people to decompress and chill out after a long day. However, some people may find it harder to take a bath as they grow older. As an example, if you suffer from arthritis or joint pain, getting into and out of a bathtub may be quite unpleasant. The chances of falling are further increased by walking on slippery floors. At Visiting Angels Annapolis, our personal care services can help your loved one who is experiencing difficulty bathing or showering alone.
Hair Care
As people become older, they often find that simple tasks, like combing their hair, become more challenging. Therefore, their hair may start to look unkempt. Dandruff is very frequent among the elderly, but it may be avoided with regular brushing. Our caregivers can help your loved one get ready for the day by combing their hair each morning. We'll demonstrate the correct technique to make sure they take proper care of their hair. If your loved one needs a haircut because their hair is getting out of control, our caregivers may accompany them to the salon or barbershop of their choice and remind them when their appointment is coming up.
Oral Care
It is recommended that you brush your teeth twice a day to help keep your gums and teeth healthy. In addition to preventing tooth decay, brushing your teeth may help remove plaque and bacteria from your gums. Unfortunately, as individuals become older, their hand dexterity decreases, making brushing their teeth more challenging than it once was. You still need to brush! If your loved one has trouble remembering to brush their teeth twice a day or has a condition that makes holding a toothbrush difficult, such as Parkinson's disease, our personal care services can help them maintain good oral health.
At Visiting Angels Annapolis, we will make certain your loved one gets the help they need to look and feel their very best and we will do so in a way that does not cause any kind of discomfort. You can put your mind at ease that we will care for your loved one as if they were a member of our own family.
To learn more about how we can help your loved one, please contact our Millersville, MD office today at 410-587-2316. We will gladly answer all your questions and schedule your free consultation.
Serving Northern Anne Arundel County in Maryland, including Annapolis, Glen Burnie, Millersville, Pasadena, Crownsville, Arnold and Severna Park
Visiting Angels
ANNAPOLIS, MD
8338 Veterans Hwy #103A
Millersville, MD 21108
Phone: 410-505-5141
Fax: 410-549-2909