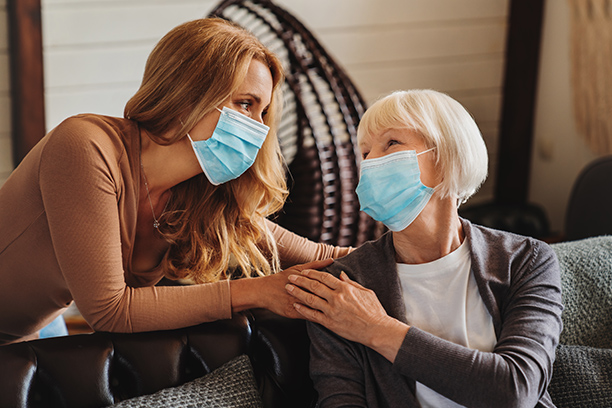 What You Need to Know About In-Home Care Services in Annapolis, MD and Surrounding Areas
Maneuvering through the often complicated world of senior care options in Northern Anne Arundel County can be a frustrating and painstakingly long process. You want to make sure that you find the perfect caregiver to take care of your loved one, but you also want to do it quickly so they can receive as much care as they need. At Visiting Angels Annapolis, we understand how you feel, and we want to help.
As experts of in-home senior care, we have the knowledge to guide you every step of the way as you begin to make decisions throughout your loved one's experience with professional in-home care services. There are many different factors in matching the right services and caregivers for your loved one. You want someone that is able to understand your family's changing schedules and personalities while still providing excellent in-home senior care. We are more than able to provide that stability for you. We respect the fact that you trust Visiting Angels Annapolis in your home.
How Does Visiting Angels Annapolis Help Seniors in Anne Arundel County Find the Right In-Home Care Services?
We've been in thousands of homes throughout Millersville, Annapolis, Glen Burnie, Pasadena, Arnold and throughout Northern Anne Arundel County and we've handled many different situations when providing care for seniors. Through this knowledge, we are able to answer any questions that you may have about the process in order to alleviate any stress that you may have about our in-home care services.
Throughout the process, we can help you by:
Scheduling an in-home consultation
Creating a personalized care plan for your loved one's needs and wants
Consulting with you about important aspects of care, including cost and scheduling
Coordinating a meeting with some of our caregivers
Adjusting care plans or routines as needed throughout the process
Whether you have researched the ins and outs of in-home care services or need emergency care, Visiting Angels Annapolis can help you find the right solution. If your loved one needs hospital assistance or bedside care in an assisted living facility, we can help through every step of the way. We can also help your loved one through various transitions such as moving from a hospital to their home or any other type of relocation. Our caregivers have the care and skill that it takes to help your loved one as much as they need.
Contact our Millersville, MD office today at 410-587-2316 to schedule a free in-home assessment.
Serving Northern Anne Arundel County in Maryland, including Annapolis, Glen Burnie, Millersville, Pasadena, Crownsville, Arnold and Severna Park
Visiting Angels
ANNAPOLIS, MD
8338 Veterans Hwy #103A
Millersville, MD 21108
Phone: 410-587-2316
Fax: 410-549-2909
Why is in-home senior care becoming a popular choice for older adults? Check out these benefits to receiving elderly care at home.