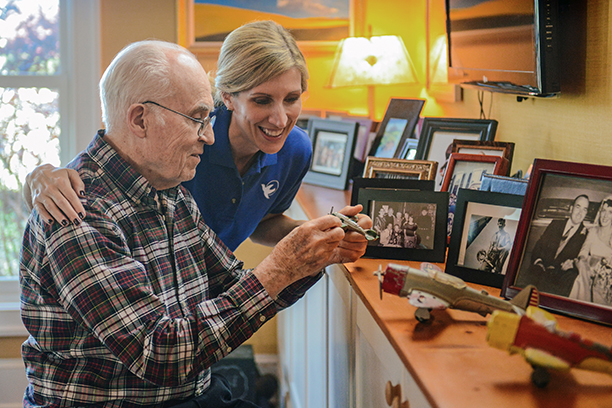 Asheville, NC Caregiver Jobs: Hiring CNAs and Caregivers Immediately
The name Visiting Angels carries with it a reputation not only for quality but also for a distinctive approach to in-home care that prioritizes the individual. The people who uphold this reputation are our caregivers, the committed and compassion-driven angels themselves who build lasting relationships with the families they serve.
To be a Visiting Angels caregiver takes a special level of talent and dedication. The role can take you into countless homes in and around the Asheville area, in each of which you must represent the values for which we stand. The job can be challenging, but if you are up to it, it can also be tremendously rewarding. Come see whether the role of a Visiting Angels caregiver is right for you.
Are you ready to apply? Apply Here
What Does a Visiting Angels In-Home Caregiver Do?
At Visiting Angels of Western North Carolina, our caregivers deliver in-home support to seniors in and around Asheville, North Carolina, based on specified requirements.
Duties and Responsibilities
Each of our care recipients has a personalized plan that caters directly to their health and lifestyle. As the plans are customizable, our caregivers are trained to perform an array of senior-support activities to meet evolving care needs. With an assigned care recipient, you may do the following on a given day:
Assist clients in all activities of daily living/hygiene assistance bathing, grooming, linen changes, etc.
Prepares meals within patient's diet and assists client with eating, when necessary.
Assist clients with transfers, ambulation and exercises as directed and instructed by the clients Plan of Care.
Performs light housekeeping, which facilitates client self-care in the home.
Meets the safety needs of the client and uses equipment safely and properly.
Completes records accurately and carries out all assignments as requested.
Specialized Care Services
Some of the clients you serve may have considerations that require higher levels of care. The services we deliver are appropriately diverse so that we can meet the requirements of a broad population of Western North Carolina seniors. With that in mind, as a member of our caregiving team, you should be prepared to deliver any of specified care services that include the following:
What Do I Need To Become an In-Home Caregiver?
The Visiting Angels standard for a great in-home caregiver starts with the following:
Location: We primarily look for candidates who live within an hour of the Asheville area, as firsthand knowledge of the surroundings is helpful for supporting the social and interactive needs of our clients.
Experience: The ideal candidate has at least six months of experience as a caregiver or certified nursing assistant (CNA) in a professional setting, whether it's gained through private duty, an agency, a facility, or another system of care delivery.
Good background check: The relationships between our caregivers and our clients are built on trust, which requires trustworthy candidates to fulfill.
Good professional references: We also look for candidates who have a record of dependability as well as high performance, which your references help to reveal.
Ability to pass a prehire drug screening: This requirement ties into the need for dependability as well as the capacity to uphold Visiting Angels values.
Valid driver's license and auto insurance: These are essential because of the nature of in-home care and the transportation needs of our clients.
In our search for the best caregivers in the Western North Carolina region, we also focus on identifying certain qualities that distinguish our top candidates. We look for caregivers who have the versatility to deliver the wide variety of services we offer, the openness to communicate and connect with the people they serve, and the devotion to senior well-being that's necessary to inspire trust and confidence. Above all, we prioritize compassionate candidates — those who care about helping seniors to achieve a quality of life that allows them to enjoy their golden years in comfort and contentment.
Visiting Angels Caregiver Development Program
We are looking for individuals that have the heart of a caregiver but have not had the training or professional experience to join our program and become a caregiver. Our program will train newcomers in the many different aspects of caregiving. Not only will they receive the proper training to become a caregiver, but they will always have a whole team of people to make sure that they can be successful before, during, and after training. To learn more about our Caregiver Development Program, reach out via phone or text at 828-665-3944 or email Jobs.asheville@visitingangels.com.
Why Work for Visiting Angels of Western North Carolina as an In-Home Caregiver?
At Visiting Angels of Western North Carolina, we greatly admire our caregivers and respect their role in building our reputation for high-quality, compassionate in-home care. That's why it's important for us to express our appreciation as much as we can. As a member of our caregiving team, you can expect to enjoy the following benefits and incentives:
Competitive pay.
Overtime potential.
Opportunities for bonus pay.
Flexible and location-based schedule.
W-2 employee status.
CNA sponsorship program.
Partnerships between office staff and caregivers.
Paid time off.
Disability insurance.
Accident insurance.
Vision coverage.
Be a Part of Something Special at Visiting Angels
If you embody the qualities, principles, and commitment necessary to become a Visiting Angels caregiver, we invite you to apply today.Our online application makes it easy. All you have to do is provide us with your references, qualifications, and the details of your resume, and a member of our hiring team will get in touch to arrange an interview. We look forward to meeting you and discovering how you can be a part of the solution for seniors in the Western North Carolina region.
Are you ready to apply? Apply Here
-----
Serving Asheville, Hendersonville, Black Mountain, Weaverville, Waynesville, and the Surrounding Areas
Visiting Angels
ASHEVILLE, NC
24 Sardis Rd #H-I
Asheville, NC 28806
Phone: 828-665-3944
Fax: 866-305-3446