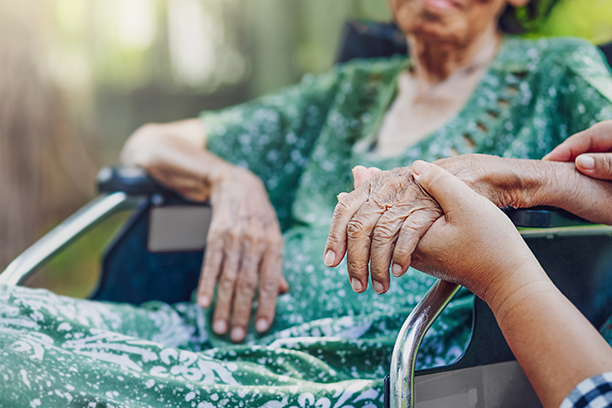 Companion Care Services in Asheville, NC
As our loved ones age, they often need more assistance and companionship than their friends and family can provide. Companion caregivers can provide a wealth of services to improve and enrich the lives of older adults. At Visiting Angels of Western North Carolina, we're dedicated to providing custom care plans and thoughtful services to help keep your loved ones as happy and healthy as possible. We understand how important it is to find the right provider for elderly companion care. Our team members strive to offer the best and most compassionate services to our clients in the Asheville, North Carolina, area.
What Does a Companion Caregiver Do?
Companion caregivers assist older individuals with a variety of needs. Caregivers can provide as much or as little assistance as needed, with options that range from hourly care one or two days a week to 24-hour care for those who need supervision throughout the day and night.
Companion caregivers may provide one or more of the following services:
Companionship in the form of meaningful conversation, board games, card games, or other friendly activities.
Respite care to allow friends and family members a break from their caregiving duties as needed.
Personal care services, including help with bathing, toileting, dressing, and grooming.
Meal planning and preparation, which may include assistance with grocery shopping.
Light housekeeping duties, including washing laundry and doing dishes.
Medication reminders.
Help with running errands or transportation to appointments
The care of elderly companions looks different for everyone, but the goal is always the same. Our caregivers strive to keep older adults healthy, happy, and comfortable as they age in their own homes.
The Benefits of Companion Care Services
Home companion care offers mental, physical, social, and emotional benefits for the elderly. Depending on the type and level of care, elderly companion caregivers may provide some or all of the following advantages:
Keeping Older Adults Active
It's important for older adults to stay active as much as possible. Regular exercise helps prevent bone loss and chronic disease while enhancing mood and boosting immunity. One study found that physically active individuals have fewer alterations in biomarkers for Alzheimer's disease, cognitive function, and memory.
Nearly any type of physical activity is beneficial. Strength training can help ease arthritis pain by strengthening the muscles around affected joints. Yoga strengthens the bones and improves flexibility. Aerobic exercise strengthens the lungs and improves cardiovascular function.
Companion caregivers can participate in activities such as taking walks or helping individuals sign up for local fitness classes for seniors. Caregivers can also provide transportation to make sure it's easy for individuals to attend.
Supporting Adequate Healthcare
Seniors often have more health care needs than the younger population. This often necessitates a greater number of medications and more frequent visits to health care providers. Elderly companion care services can include assistance picking up medications and driving patients to doctor's appointments. Daily or in-home companion care may include gentle reminders to take all necessary medications and general supervision to see how individuals handle new medications. Caregivers stay in close contact with family members to make sure they're informed of any concerns or new medical needs.
Companion caregivers can also assist with scheduling and transportation for doctors' visits. Medical appointments can be one of the most difficult things for friends and family members to help with, as the scheduling may interfere with their own work schedules. Companion care services can step in to ensure older adults have the assistance they need to keep up with their essential healthcare needs.
Easing Housekeeping Burdens
Companion care can enable older adults to age in place, staying in their own beloved home through their later years. As individuals age, it can become more difficult to perform everyday tasks, such as housecleaning, laundry, meal preparation, or even changing bed sheets. Companion caregivers can assist with all of these tasks.
Providing Companionship
Companionship promotes better mental and physical health for individuals of all ages. Those who are isolated have a greater risk of depression. The elderly may face distinct challenges to finding companionship, such as mobility limitations that make it difficult for them to get out.
Companion caregivers can engage individuals by playing board games or reading aloud to them about fresh, intriguing topics. Caregivers can also help individuals find and get to local activities that provide companionship, such as art classes, computer lessons, and social gatherings.
Custom Companion Care Services From Visiting Angels in Asheville and the Western NC Area
The hallmark of quality caregiver services is flexibility. Service coordinators create a custom care plan for everyone that's thoughtfully designed to meet their unique needs. Coordinators take the time to get to know each client and family so they can offer a plan that alleviates concerns while providing the added enrichment that older adults often need in their lives.
These plans can evolve over time to accommodate the individual's changing needs. The frequency of visits may increase, or daily visits may transition to 24/7 in-home companion care or live-in care. At Visiting Angels, we understand that everyone is on their own personal journey, and we're committed to offering continuing care throughout the years. Coordinators stay in close contact with the individual's family and provide regular updates to make sure everyone is satisfied with the schedule and level of care.
Why You Should Choose Visiting Angels for Companion Care Services
Our caregivers at Visiting Angels are kind, compassionate, and highly skilled in elder care. We have an excellent reputation within the community for offering attentive services and flexible care plans. We understand that choosing home companion care is a big decision, and you may have a lot of questions along the way. We're committed to providing every individual with the time and attention they need to feel completely comfortable entrusting their loved ones to our care.
Schedule Your Companion Care Consultation With Visiting Angels
If you're ready to explore the many ways that your loved one can benefit from our companion care services in Asheville, North Carolina, contact us now. You can give us a call, send us a text at 828-665-3944, or complete our online contact form to receive more information on companion care services from Visiting Angels.
Schedule a FREE In-Home Consultation
For more information on our companion care services, call Visiting Angels Asheville today and request a free, in-home consultation.


Serving Asheville, Hendersonville, Black Mountain, Weaverville, Waynesville, and the Surrounding Areas
Visiting Angels
ASHEVILLE, NC
24 Sardis Rd #H-I
Asheville, NC 28806
Phone: 828-665-3944
Fax: 866-305-3446