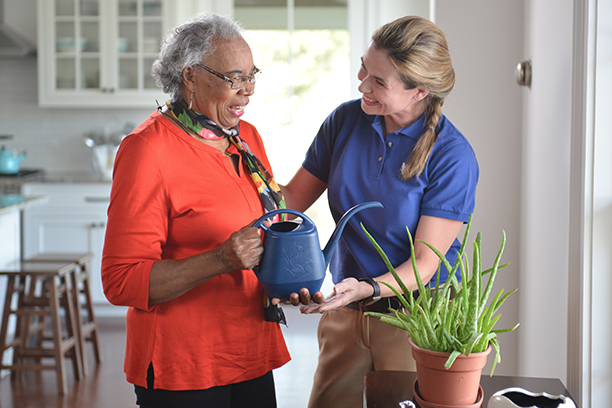 FAQ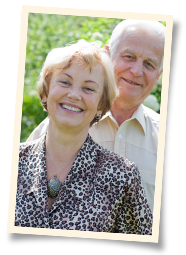 Q: WHAT KIND OF SERVICES DO YOU PROVIDE?
A: Companion care and personal care services are designed to take over or assist in the activities that elders need to be able to stay at home safely and with dignity. These may include fall prevention, medication and fluids reminders, light housekeeping, grooming or bathing assistance and running errands.

Q: WHAT DOES THE TERM "AGING IN PLACE" MEAN?
A: This refers to the ability of any person to grow old in their own home or that of their family. It is the opposite of institutional residential care like a nursing home. Sometimes it may mean the ability, with extra help, to stay in an assisted living facility as well.
Q: DO YOU ACTUALLY PROVIDE SERVICES IN ASSISTED LIVING FACILITIES?
A: Yes. People sometimes discover that the assistance provided in an assisted living facility is not enough to enable them to remain independent. In these cases, Visiting Angels provides a person to make this possible. In some states you are allowed to hire private help in an assisted living facility – or nursing home for that matter.
Q: HOW DOES THE COST OF VISITING ANGELS COMPARE WITH ASSISTED LIVING OR NURSING HOME CARE?
A: The average Visiting Angels service runs about 1/3 the cost of an Assisted Living Facility and less than ¼ of what the skilled facility would cost.
Q: CAN THIS HELP MY PARENTS CONSERVE THE ASSETS THEY HAVE WORKED ALL THEIR LIVES TO BUILD?
A: Yes. Any assets a person spends for their own care is that much less that will be available for the government, through Medicaid or taxes, to take away. Most families would rather see those assets spent keeping their elderly family members at home and independent rather than have them taken away to reimburse the government or be taxed as inheritance.
Q: HOW QUICKLY CAN SERVICES BE PROVIDED?
A: Generally services can be provided within a 48-hour period and often the same day.
Q: CAN I CHANGE THE SCHEDULE IF I HAVE APPOINTMENTS?
A: Changes are easily accomplished with as little as a weeks notice. Our philosophy is to make the schedule work for the family not the agency. You come first. Your needs, your requests, your schedule. We will do everything possible to make sure the schedule you want is the schedule you get.
Q: HOW DO I START SERVICES?
A: Call one of our offices in Scottsdale, Mesa, Phoenix, or West Valley Arizona and we will have our staff come to your home and conduct a free, no obligation assessment. We will then, at your direction, identify caregivers who have the skills, personality and availability to assist you. You then will be able to meet the caregiver and if you approve, they will begin working for you.
Serving the Greater Phoenix Area
Visiting Angels
ARIZONA
8585 E Bell Rd #102
Scottsdale, AZ 85260
Phone: 480-451-8800
Fax: 480-315-0220
4856 E Baseline Rd #104
Mesa AZ 85206
Phone: 480-325-3211
34975 N Valley Pkwy #105
Phoenix AZ 85086
Phone: 623-594-9499