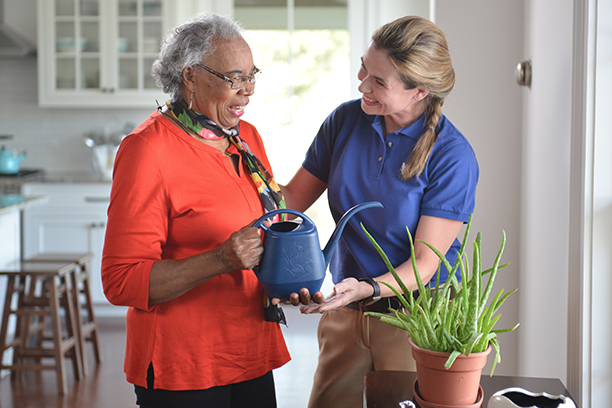 Why Visiting Angels Scottsdale
Visiting Angels Arizona: Your Caregiver Agency in Scottsdale
When you are in need of an outside caregiver from a reputable agency, it is time to call Visiting Angels Arizona. We are a trusted source of senior care for many families throughout the Scottsdale area. The name Visiting Angels has been synonymous with reliable senior care for nearly 20 years. If you are looking for compassionate, respectful elderly care for yourself or a loved one, we are here to help.
Care On Your Schedule
Our agency in Scottsdale has caregivers available around the clock. At Visiting Angels Arizona, we know the needs and schedules of seniors can vary greatly from person to person. We won't force you to change your existing routines on our behalf. Instead, we will work with you to make sure an elder care provider is present when you need assistance. Whether you are looking for someone to help with activities during the day, or to provide a watchful presence overnight, we are here to help.
Bonded, Licensed, and Insured for Your Safety
Our agency is bonded and insured for your safety. Your caregiver from agency in Scottsdale is a trustworthy professional you can feel good about. Our agency provides thorough screening of applicants as well as references and previous employment verification. At Visiting Angels Arizona, our agency is focused on providing you with qualified caregivers to make life easier for you.
Ongoing Oversight is Standard
At Visiting Angels Arizona, our agency has found the best way to ensure the quality of our caregivers is to maintain continuous oversight of our care. We achieve this by calling on a regular basis to get a feel for your satisfaction. Additionally, professional staff from our agency will drop by occasionally to visit with you in person.
Personalized Care Fits Your Needs
You simply won't find more personalized care than what is offered by our agency. Visiting Angels Arizonahas caregivers who are focused on each individual client and what they need. While one person may need assistance with transportation and getting to appointments, another may desire companion care and someone to help with meals. We will tailor your services to address the areas where you most need help.
Call our office in Scottsdale today to discover the many ways in which our caregivers and agency can help you.
Serving the Greater Phoenix Area
Visiting Angels
ARIZONA
8585 E Bell Rd #102
Scottsdale, AZ 85260
Phone: 480-451-8800
Fax: 480-315-0220
4856 E Baseline Rd #104
Mesa AZ 85206
Phone: 480-325-3211
34975 N Valley Pkwy #105
Phoenix AZ 85086
Phone: 623-594-9499