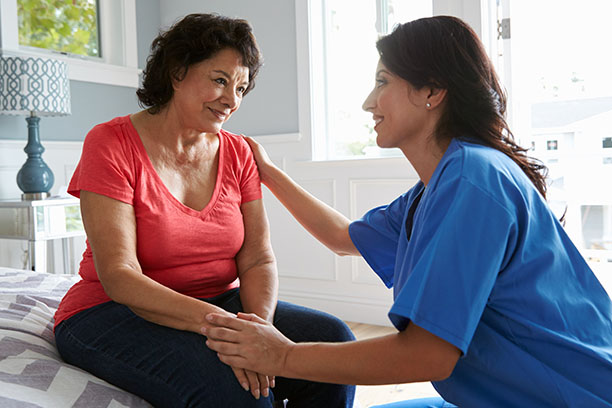 Dementia Care in Scottsdale
If you have a parent or loved one in the Scottsdale area who is living with dementia, you know how challenging it can be. Things you once took for granted may now be a source of anxiety for your loved one. Perhaps you have been trying to provide assistance to your loved one, but you are unsure how to help. Visiting Angels Arizona offers experienced dementia care to families dealing with this and other memory related illness.
Our memory care specialists provide assistance with the activities of daily living; helping to improve your loved one's quality of life at home. When you have a family member who needs knowledgeable dementia care, Visiting Angels Arizona is here to help.
Custom Dementia Care Services
There are many reasons families in Scottsdale choose dementia care services from Visiting Angels Arizona. One of the greatest benefits is the ability to customize care so it suits your needs. While there are some similarities between seniors living with memory related illness, each person's symptoms and progression may differ. Your loved one may benefit from walking and fall prevention assistance, while another client may need help preparing dietary conscious meals. No matter which non-medical dementia care services you are looking for, Visiting Angels Arizona can provide the care and attention your loved one needs.
Offering Flexible Scheduling in Scottsdale
As your loved one's illness progresses, you will likely need additional dementia care services. That's why we make it easy to modify your care plan to ensure your loved one continually receives the assistance they need. We make sure to have a variety of memory care specialists available around the clock so there is no time of day where assistance is unavailable. Even during holidays and on weekends, there are compassionate professionals ready to lend a hand. If your scheduling needs change throughout the course of your loved one's illness, your dementia care services from Visiting Angels Arizona can change as well.
Getting Started with Dementia Care
Getting started with dementia care from Visiting Angels Arizona is easy. When you call our agency, we will schedule a complimentary assessment in your loved one's home. During this visit, we will discuss your loved one's needs for care including physical and emotional concerns and scheduling preferences. We will also perform a safety and fall prevention assessment to help keep your loved one safe.
For more detailed information and to get started with dementia care services, call our office in Scottsdale today.
Serving the Greater Phoenix Area
Visiting Angels
ARIZONA
8585 E Bell Rd #102
Scottsdale, AZ 85260
Phone: 480-451-8800
Fax: 480-315-0220
4856 E Baseline Rd #104
Mesa AZ 85206
Phone: 480-325-3211
34975 N Valley Pkwy #105
Phoenix AZ 85086
Phone: 623-594-9499