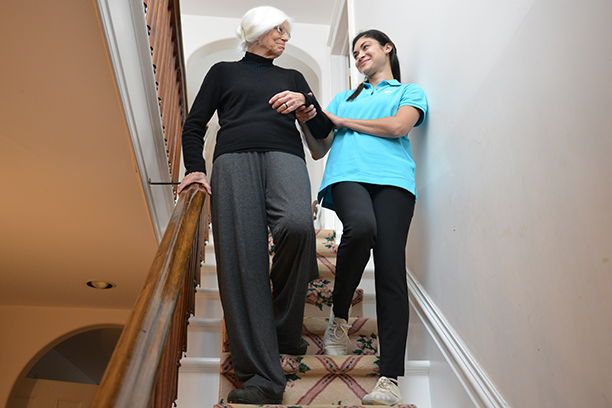 weekly_message
"Your assistance in finding a second caregiver when we needed two and you always being there to listen or give an encouraging word, cannot be measured."
At Visiting Angels we know it isn't easy to make the decision to invite a caregiver into your home to provide homecare. That's why the personalized screening system that our Visiting Angels franchised homecare agencies are trained to perform is designed to maximize your peace of mind. You'll have the opportunity to interview any caregiver that we refer to you. We let you choose the caregiver you trust.
We Recruit Experience!
You deserve to have a caregiver who is experienced in providing the services that are needed in your home. We don't believe in "on the job training!" Many of our caregivers have worked with us for years and have a strong employment history in caring for seniors. We recommend to our franchised agencies that they .perform multiple interviews with each prospective caregiver and obtain references from reliable sources (previous clients, agencies, healthcare institutions, religious and volunteer organizations, etc.) before the person is hired or referred to a client as an Angel Companion.
Character Counts
VISITING ANGELS emphasizes intangible traits such as a caring personality. When you try our service, you'll be pleasantly surprised to see that at Visiting Angels, character matters!
You Are In Charge
You are in charge of everything. Because we are a non-medical agency and not a nursing agency, Visiting Angels will not dictate to you what your schedule is to be (i.e. what time to wake up, when to bathe, meal schedules etc.). You are the boss. It is our job to adjust to your schedule and to keep you comfortable in your home
Serving the Greater Phoenix Area
Visiting Angels
ARIZONA
8585 E Bell Rd #102
Scottsdale, AZ 85260
Phone: 480-451-8800
Fax: 480-315-0220
4856 E Baseline Rd #104
Mesa AZ 85206
Phone: 480-325-3211
34975 N Valley Pkwy #105
Phoenix AZ 85086
Phone: 623-594-9499