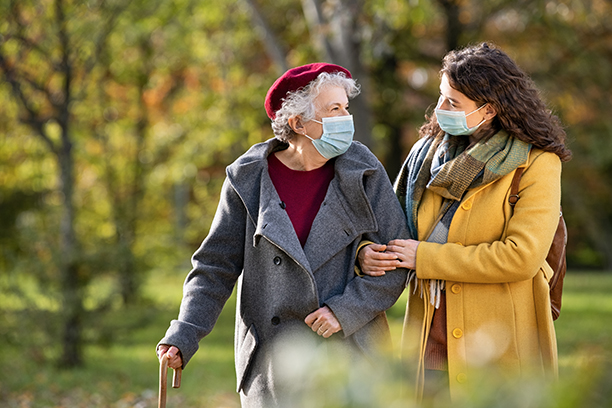 About Visiting Angels
Why did we get into home care?
The answer to this question is twofold. In 2002 Mark Aspenson was 22 years old and finishing up degrees in Entrepreneurship and Real Estate from the University of St. Thomas in St. Paul, MN when he took a franchising class. The project was to analyze any franchise (McDonald's, Subway, Pizza Hut) but he wanted to analyze a franchise that he could realistically see himself doing. Aspenson comes from a family business that is product based and wanted to get into a services based business because he likes working with people. He settled on researching a non-medical home care company due to the services that were being offered and the aging of our population.
In fact, what intrigued Aspenson was that his own family could have used the services for his 90 year old great-grandmother "Granny". He saw how much Granny hated to leave her home and be "put away" in an assisted living facility. Granny's attitude and health started to decline and when family would visit her, she would always ask, "why are you taking off your coat, we are going home."
To give families the option of keeping their loved one(s) at home at the age of 23 Aspenson opened Visiting Angels Scottsdale in January of 2003. Aspenson credits much of his success on the philosophy of building long-term relationships with everyone that touches our business whether it is our Client families, referral sources, caregivers or vendors. In October of 2005 bought the Visiting Angels Mesa office.
Our Team
Scottsdale, Mesa, Phoenix, and West Valley Office Team:
Executive Director: Mark Aspenson
Chief Operating Officer: Dawn DeMers
Chief Revenue Officer: Nancy Gillette
Chief Staffing Officer: Melissa Diaz
Operations Manager: Leeann Coakley
Accounting Manager: Jayne Garnhart
Recruiting Coordinator: Desiree Mantz
Retention Coordinator: Kathy Kelder
Intake Coordinator: Treva Howard
Community Liaison: Schodi Irvin
Community Liaison: Sally Mackesy
Community Liaison: Alicia Cotten
Staff Coordinator: Laurie Shepard
Staff Coordinator: Adriana Munoz
Regional Staffing Coordinator: Jamie Deneka
Long Term Care Insurance Specialist: Donna Miller

Caregivers:

Our home care agency would not exist without the commitment to excellence provided by our 160 experienced caregivers.
Thank you for visiting our web site. Remember, we are here to support you, not to take charge of your life. Please feel free to contact us if we can be of any assistance, and enjoy your day.
Serving the Greater Phoenix Area
Visiting Angels
ARIZONA
8585 E Bell Rd #102
Scottsdale, AZ 85260
Phone: 480-451-8800
Fax: 480-315-0220
4856 E Baseline Rd #104
Mesa AZ 85206
Phone: 480-325-3211
34975 N Valley Pkwy #105
Phoenix AZ 85086
Phone: 623-594-9499