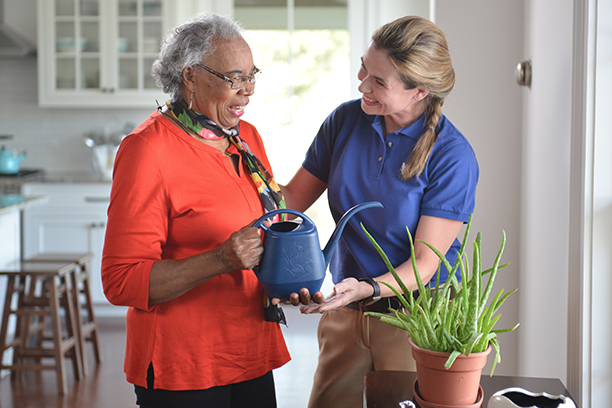 Long Term Care Insurance
Visiting Angels currently works with:
• Allianz • American Pioneer • American Progressive • Anthem Blue Cross
• ARAG • Bankers Life and Casualty • CNA • Conseco
• Constitution Life • CUNA Mutual • Coverdell • Genworth
• Hartford Insurance – Workers Compensation • John Hancock • LifeSecure
• Long Term Care Partners • MedAmerica • Met Life • Mutual of Omaha
• National States Insurance Company • Northwestern Long Term Care • Penn Life
• Penn Treaty • Prudential • Pyramid • S H I P
• Standard Life • Senior American • State Farm • TransAmerica Life Ins. Co.
• Travelers • Union Bankers • Union Labor • UNUM • Washington National
To ensure that claims are paid timely to our Clients, we use a 35 point check list. Ask us what made us the Long Term Care Insurance Experts!

We have seen a shift in how clients are paying for our services. Seven years ago, 90% of our clients were private pay versus 10% who paid with LTCi. However, now we file LTCi claims for over 25% of our clients. Visiting Angels are experts in LTCi for the following reasons: we use a 35 point checklist to ensure we know virtually everything about the policy, we file claims within seven days, we have an RN on staff, we are Medicaid certified to meet and exceed policy requirements, and we have successfully filed claims with over 36 LTCi companies.
We have compiled a list of 10 tips for maximizing a Long Term Care Insurance policy:
1. Get to know the policy. Each LTCi policy is customized, unique and can be complicated and confusing.
2. Minimize out of pocket costs. Get the elimination period out of the way as soon as possible in order to minimize out of pocket costs by using either service days or calendar days.
3. Know the reimbursement plan: Is the policy a cash, indemnity or reimbursement plan? Learn to successfully utilize and get the most out of the policy and leave the least amount of money on the table.
4. Does the policy include an inflation rider? Is there one, when does it go up, and what is the increase?
5. What is the maximum benefit? Does the policy have a term, dollar cap or both?
6. Determine the benefit per day. Maximize the benefit and get the client's money's worth.
7. Find out if the policy has an alternate care benefit. Policies may not cover nursing home care but can include home care or other alternatives.
8. Use respite benefits. LTCi can include respite care for family members as well as a home modification benefit to prevent falls.
9. Use an agency that is successful in filing LTCi claims.
10. Understand ongoing claim requirements. Know what the conditions of the policy are for example assistance with two ADLs.
Visiting Angels is offering a free review of Long Term Care Insurance policies. Please contact our office to arrange a complimentary review of the policy.
Serving the Greater Phoenix Area
Visiting Angels
ARIZONA
8585 E Bell Rd #102
Scottsdale, AZ 85260
Phone: 480-451-8800
Fax: 480-315-0220
4856 E Baseline Rd #104
Mesa AZ 85206
Phone: 480-325-3211
34975 N Valley Pkwy #105
Phoenix AZ 85086
Phone: 623-594-9499