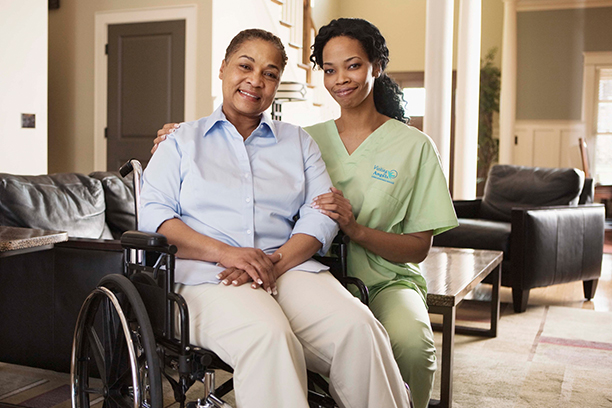 Bartlesville Reviews
My mom enjoys her caregiver, Susanna. They can both speak Spanish and my mom loves to practice this skill. This is very helpful because my mom has dementia. Visiting Angels excels at having someone there for my mom. Every person who had been to my mom's house has been a great match. I always recommend Visiting Angels. They are a wonderful company. They are easy to work with and the caregivers are great. They listen to all of your needs.
-- Donna L.
My mother-in-law has dementia and we have a concern about her staying by herself. It has been a relief to know that someone is qualified and is there with her. Visiting Angels provides good care. They are very professional and business-like. They match the help with the kind of care that my relative needs. The caregiver takes care of business and doesn't take advantage while she is there. She is very compassionate and goes a step beyond in her work.
-- Betty P.
Visiting Angels provided Home Care related services for both my Father In-Law and The Mother In-Law during their battles with cancer. His concern for their care and his attention to detail was greatly appreciated during a very difficult time. I would highly recommend Visiting Angels to anyone who is in need of the services they provide.
-- Terence Koelsch - Engineering Group Supervisor at NORDAM
I've known Page as a fellow owner of Visiting Angels we have not worked together and any real capacity but his reputation and leadership transcends the many miles that physically divide our businesses. I know him by his character and it is one of the many reasons that makes Visiting Angels the "go to" home care agency when entrusting the care of a loved one to a stranger.
-- Frank Aldrich - Owner/Director at Visiting Angels of Cape Cod
I have owned Visiting Angels in Winter Park/Orlando for many years and in that time Page has not only been an inspiration to me but a mentor on how to manage a company with pure Customer Service. She is dedicated to her clients and has a staff that is outstanding. She knows how to 'DO IT RIGHT'.
-- Peg Pickett- Owner, Visiting Angels of Orlando/Winter Park
Professionalism, dedication, resourcefulness, and passion are a few adjectives that come to mind to describe Page's superlative attributes. Page is a gifted business leader with exceptional enthusiasm and extraordinary shrewdness. Page also possesses unique people-skills that have enabled him to attract, develop, and effectively utilize available talent to exceed his agency targets and objectives. A master of operational, sales, process improvement, and financial principles, Page brings significant experience to the table. Using past performance as a predictor, Page will make an immediate positive impact on any organization seeking to take their outreach to the next level.
-- Eddie Morris - Owner and Certified Senior Advisor at Visiting Angels of North Central Oklahoma
I have known Page for about five years as one of the franchisees with Visiting Angels. During one of our national meetings, I had the opportunity to spend a day with Page and another franchisee as we explored the town we were visiting. During our hours of conversation, I learned that as a former Pastor, Page has brought his integrity, enthusiasm, business skills, compassion for all people, and love of God with him to Visiting Angels. He is forthright, genuine and hilarious! It is an honor to consider Page a friend.
-- Patty Andresen - CEO at Visiting Angels Living Assistance Services
Page has done an outstanding job of building a fine Visiting Angels agency. All the while, striving to continue the integrity for which Visiting Angels is known. I highly recommend Page as a compassionate owner within our organization.
-- Dave Plank - Nat Dir of Business Development at Visiting Angels
I have had the pleasure of working with Page as part of the Visiting Angels family of home care providers. Although our agencies are far away in distance--our philosophy of caring for seniors remains closely the same. Keeping seniors at home independently by providing quality care is always top in his agenda. Page is dedicated to the field of senior care and has been instrumental in opening up lines of communication amongst other Visiting Angels agencies to share best practices. I would strongly recommend Page for any task that involved a high level of commitment and caring attitude.
-- Debbie Waldecker, CSA - Owner, Visiting Angels
Have had a special place in my heart for the care and advocacy of older adults since 1977. Page Cole is the very caring and compassionate owner of Visiting Angels in Oklahoma. His background as a pastor has directed the way he cares for seniors, and everyone around him. From the moment you meet Page, you feel at ease, and comfortable because of his warm personality. He is hardworking, dedicated, and keeps himself up to date with senior care issues. There are many people involved in senior care in America, but few as kind, caring, and dependable as Page. I would not hesitate to have Page and his staff care for my parents. I would highly recommend him and his agency as a trustworthy and compassionate source for care.
-- Angil Tarach-Ritchey RN, GCM
Page has a tremendous gift with people. He models compassion and authenticity at all times. You can count on Page Cole for a job well done.
-- John Kelsey - Campus Missionary
Page has great organizational skills and enjoys working with others. I look to Page as a great example of leadership and someone you can always trust.
-- Tom Sullivan - Project Engineer at Matrix Services Inc.
Page Cole is one of the most influential people I have had the privilege to know and work around. Page came to our church when I was in high school as a Youth Minister. He took over a struggling youth program and turned it into a haven for youth. His personality and nature won over our hearts and transformed many lives during his tenure. Page challenged us to grow, stretch our way of thinking, and allow God to pervade our lives… of course always with a sense of humor.
Page is one of those rare individuals that make others laugh... even at themselves. Many of times that I remember with Page are often filled with laughter… to the point of cheeks and stomach hurting laughter.
Page is an honorable and tireless worker. I was able to work with Page and assist him with events and trips as a youth worker\ counselor. Many of the things that I learned from those times have shaped my thinking and perspective.
A few years ago, when it came time to find a minister to perform my mother's funeral… we didn't have to think long. My mother adored Page and it was an honor to have him eulogize my mother.... He was able to find the sensitive yet funny side of the memories that we had shared. Page is a true mentor and friend. I am honored to recommend Page!
-- Jon Martin - Director of Design Services at True North Consulting Group
I have known Page for over 15 years and worked with him on several community volenteer projects. Page is a very caring person and professional. He is a man of his word.
-- John Dugger - Human Resource Manager
I have worked "around" Page for several years and he is wonderful at vendor negotiations. He has an incredible sense of humor.
-- Kaye Hansen - Global Account Manager Avaya
Page understood the task to be done, set a goal and completed it. His agreement was to do the position on a temporary basis in order to help an organization. He fulfilled his commitment and helped with motivating groups/individuals to be involved in the work.
-- Cathy Tisher - President/Chaplain at Called to Care, Inc.
Our family has known Page and his family for over 10 years. He's very professional, and caring with a high degree of integrity and character. His people skills are relational and compassionate for both the families and workers that he comes in contact with. He's very dedicated to serving others and a privilege to know.
-- Christi Smith - Staff Specialist II
Page and I served together to help plan and conduct a Student Ministry retreat for the state of Oklahoma. Page is a forward thinker who has a rare combination of organizational skills and people skills. He is trustworthy and has a "Can Do" attitude. I have no problems recommending Page.
-- Jeff Wilson - Assoc. Pastor of Leadership and Equipping at Severns Valley Baptist Church
After working with Page and Visiting Angels for over 5 years we have found that you can always expect a high level of professionalism and integrity with them and highly recommend.
-- Lance Ferden - Pres at IDS
Page is a fantastic teacher with an infectious personality. He is very knowledgeable and has a great way to bring people along to his way of thinking. He is a person who truly cares for people.
-- James Ashford - State Business Development Director
Serving Bartlesville, Dewey, Nowata and Ramona
Visiting Angels
BARTLESVILLE, OK
1401 SE Washington Blvd
Bartlesville, OK 74006
Phone: 918-333-7400
Fax: 866-576-2012