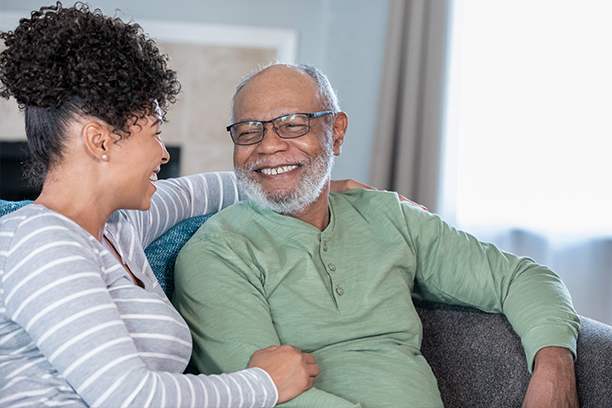 Dementia Care in Lower Bucks County
How To Help a Loved One That Wants To Go Home
It's not uncommon to hear someone with dementia ask to go home. For those who are handling dementia care, especially family members, it can be difficult to know how to respond. At Visiting Angels® Bensalem, we support clients with dementia, as well as their families, throughout Lower Bucks County. We can help you understand how to answer.
Let's take a closer look.
3 Tips For Responding When A Loved One Says They Want To Go Home
In dementia care, it's important to remember when someone asks to go home, they're trying to express discomfort or a feeling of unfamiliarity. Keeping that in mind, here's what we recommend for family caregivers in Lower Bucks County:
Remember body language and tone. When someone asks you for an impossible request, it's hard not to show distress or frustration. Remember: those with dementia can be very sensitive to changes in tone and body language. If you need a few seconds to collect yourself, it's okay. Try to demonstrate comforting body language, with light physical contact, and use a warm and calm voice.
Don't try to explain or minimize. Dementia goes hand-in-hand with mental confusion, so trying to explain a situation or use logic will rarely work. In fact, trying to explain your family member is already at home, or they can't return home, may further agitate or upset them. You want to show that you understand they're in distress and that they're hurting, and you want them to know you're there for support.
Steer them gradually in another direction. Once you've acknowledged your loved one's request, it's a good idea to subtly steer them in another direction, if possible. Maybe ask them about home, and use that as a jumping-off point to reminisce about family. Maybe ask them if they'd like a cup of tea before going home, and use that time to redirect their attention elsewhere. You may have to experiment here to see what works.
Your Trusted Team For Dementia Care in Lower Bucks County
With our agency, you'll never have to worry about administering dementia care alone. We assist family caregivers as well as seniors living alone with dementia in:
Lower Bucks County
Andalusia
Feasterville-Trevose
Edgely
NE Philadelphia
Bensalem
Bristol
And throughout the surrounding area
Help your loved one thrive, with trusted dementia care in Lower Bucks County. With Visiting Angels Bensalem, you can explore flexible care options by calling us today.
Serving Bensalem and Lower Bucks County, PA
Visiting Angels BENSALEM, PENNSYLVANIA
2257 Bristol Pk
Bensalem, PA 19020
Phone: 215-633-0377