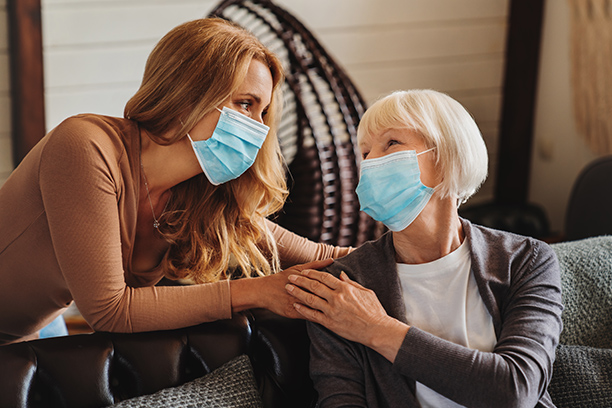 Home Care Services in Feasterville-Trevose
For seniors, the risk of falling can increase depending on age, health, and indoor environment. At Visiting Angels® Bensalem, we're keenly aware of the importance of fall prevention. As dedicated providers of home care services in Feasterville-Trevose, we help seniors live safely and comfortably within their own homes.
Home is where the majority of falls occur for seniors. The repercussions from such events can be wide-ranging, causing physical pain and emotional distress. We can often reduce the possibility of these events in the first place. Here's how our caregivers can help.
3 Ways We Can Help Prevent Falls For Seniors
At Visiting Angels Bensalem, we make our clients' safety a key priority to home care services. Our care team in Feasterville-Trevose works with families and clients to ensure we're meeting needs at all times. We can monitor health and safety and improve overall living conditions for your loved one:
We de-clutter the home. It's important for seniors to have an easy, safe path when traveling around the house. Clutter and other obstacles can present significant fall risks. Your loved one's caregiver can regularly tidy the home, removing clutter and clearing a path around entrances, exits, and common routes around the house.
We assist with daily activities. As seniors age, certain daily tasks may prove more difficult, increasing the risk of falls. Our caregivers help with bathing, grooming, and even mobility, providing assistance with sensitivity and compassion. We help our clients thrive in the home with dignity.
We offer transitional care services. For seniors returning home from the hospital, the potential for readmission can be a serious concern. If your loved one has experienced a hospital visit, we offer Ready-Set-Go-Home transitional care program. These services allow us to provide more comprehensive, adaptive care as your loved one recuperates.
Our Trusted Home Care Services in Feasterville-Trevose
Assisting with fall prevention is just one of the many ways we improve quality of life for our clients. At Visiting Angels Bensalem, our home care services are responsive to the unique needs and preferences of the seniors we serve. We assist with the complex emotional, physical, and mental challenges of aging.
We can set up care that helps your loved one thrive, no matter where they're located, included:
Feasterville-Trevose
Bristol
Bensalem
NE Philadelphia
Lower Bucks County
And throughout the surrounding area
Learn more about our home care services for seniors in Feasterville-Trevose. You can contact Visiting Angels Bensalem for a free initial consultation.
Serving Bensalem and Lower Bucks County, PA
Visiting Angels BENSALEM, PENNSYLVANIA
2257 Bristol Pk
Bensalem, PA 19020
Phone: 215-633-0377