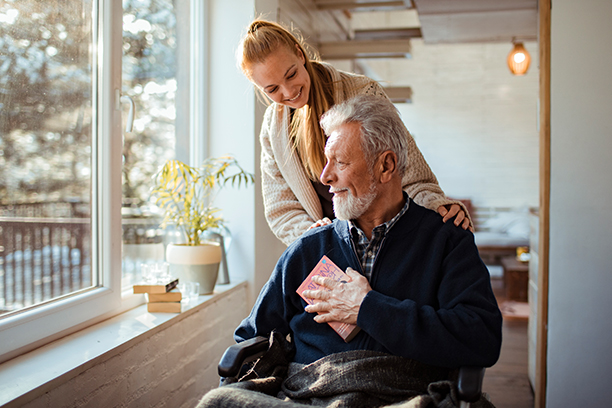 About Visiting Angels
Director of Patient Care
Meet our Director of Patient Care, Claudia Massie! Claudia's role at Visiting Angels is to assess each new client, educate families on the home care industry and help introduce the right caregiver to the client's family and home. She works with each member of the office staff to help continue to provide quality and patient-centered care to our clients.
Claudia grew up in Houston, graduated from Texas A&M University in 2004 and decided to call College Station her home. She has worked in marketing and sales for most of her career and found her passion working with the elderly in hospice for over 5 years before transitioning to Home Care Services. She is a fierce advocate for Seniors and serves as President of the Adult Protective Services Board. She lives in College Station with her husband, David and her two children.
Director of HR
Meet our Director of HR, Sissy Robinson! Sissy's role at Visiting Angels is to train, coach, groom and grow our caregiver's to be able to service our client's appropriately. She works with each of our caregivers to help them achieve new levels of training every day.
Loving the "help your neighbor country lifestyle", Sissy decided to pursue a career in the medical field starting at the age 16. Sissy worked as a CNA after school from age 16 till graduation. Sissy also got her certification in EMS and Fire where she served with various services in and around central Texas. Sissy still holds her certifications to date along with her phlebotomy certification.
Sissy's passion and experience in helping others has led her to follow her heart and a career with Visiting Angels. Sissy is mom to a beautiful 4-year-old daughter. She has a supportive husband of several years who has also been in the medical field for several years and is currently working for the A&M System. Sissy has a true passion for serving our clients and is known for her sweet and caring disposition. She feels that each client is family and should receive the utmost respect and care that they deserve, which makes her an incredible HR Director at Visiting Angels. She enjoys spending time with her family and friends.
Client Care Coordinator
Meet Marisol Mauricio, our Client Care Coordinator! Marisol's role is to help pair the right caregiver with each client. She staffs our shifts by paying attention to detail and scheduling our caregivers according to the client's needs.
Marisol grew up in Fort Worth, TX, but has lived in Bryan/College Station for 3 years. She was a caregiver for many years and is familiar with patient- centered care. Marisol has worked as a caregiver and intern for Visiting Angels and is driven to help patients and their families find their perfect caregiver. She enjoys time with her family and watching football, particularly the Dallas Cowboys! Marisol lives in College Station with her husband and 3 children.
Field Training Officer
Meet Hillary Yeomans, our Field Training Officer! Hillary is responsible for adapting the caregiver to the client's personalized care plan. She has a passion for patient-centered care. Her role is to ensure caregivers receive training in the field and help adjust skill sets according to the patient's needs.
Hillary grew up in the Bryan/College Station area and has worked with Visiting Angels for 2 1/2 years. She has been in the medical field for around 15 years and it is her passion to help others. She makes it her life mission to care for the elderly and make sure they have everything they need as well as help train caregivers to make sure they achieve their goals to become the best at what they do. Hillary resides in College Station with her husband, Mike and has 2 kids, Chris and Kaylee and a beautiful granddaughter, Bella. Two of her main hobbies are spending time with her family and watching the Philadelphia Eagles play football.
---
Since 1998, Visiting Angels has been providing elder care services to families across the United States. Our network of elder care agencies is committed to providing families with the best possible in-home care services. Our commitment to you is simple. We'll help your loved one continue to live at home and we'll help you find peace of mind.
At Visiting Angels, we understand you want top quality senior home care services for your loved one. You are searching for a qualified, professional elder care provider who will treat your family member with compassion, respect and dignity. We can help you find the senior home care provider that meets all your needs. Our senior home care providers are professionals with the training and skills you have been searching for. We'll help you find a senior home care provider who can care for all your loved one's health and well-being needs.
When you trust Visiting Angels to provide elder care services for your family, it is with the understanding that your loved one's needs will be met. The expertise of our elder care providers makes it possible for us to provide a wide range of in home care services. Your local Visiting Angels franchised office provides care to meet both temporary and long-term needs. Our elder care professionals are available to provide hourly care, overnight care and 24 hour care.
Visiting Angels' elder care services incorporate what are commonly known as activities of daily living. Our service coordinators are trained to create a personalized care plan for your loved one. Visiting Angels provides families with respite care, friendly companionship, personal care, hygiene assistance, meal planning and preparation, light housekeeping, laundry assistance, medication reminders, and assistance running errands. With your personalized care plan, you can customize our services to meet all your elder care needs.
No matter the type of elder care services we provide, you can count on our commitment to you remaining the same. We will provide top quality care that enables your loved one to maintain their independence and dignity. Our professional, compassionate caregivers will work closely with your loved one so they can continue to live at home and enjoy the lifestyle that makes them content.
Assisted living facilities and nursing homes aren't the only options for elder care services. With Visiting Angels as your elder care services provider, your loved one can continue living at home. Give your loved one the gift of quality care in familiar surroundings. Give them the gift of Visiting Angels.
Please contact the College Station office in Bryan today at 979-209-0027.
Serving Bryan/College Station and the Brazos Valley
Visiting Angels BRYAN, TX
707 Texas Ave #204A
College Station, TX 77840
Phone: 979-209-0027