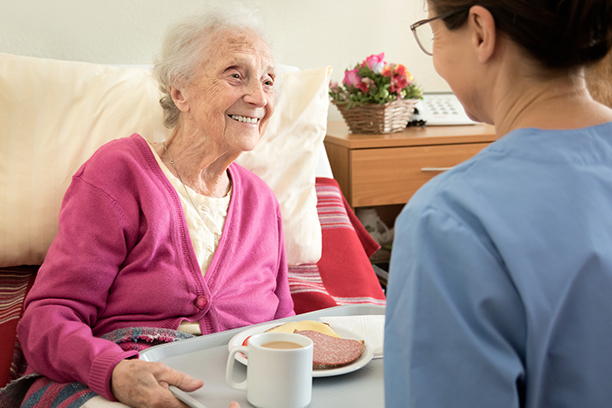 Transitional Care in Bryan-College Station Helps Avoid Hospital Readmissions
Ready-Set-Go Home with Transitional Care
When someone you love is admitted into the hospital, you rely on the trained professionals there to take good care of them. So why not do the same when it comes to your loved one's post-hospitalization care? Too often, when a senior returns home, they go from having a full set of staff and resources at their fingertips, to having very little assistance. This abrupt shift can leave a senior without the support they need to recover properly and very frequently leads to premature hospital readmission. However, for seniors in Bryan-College Station, there is a solution: transitional care from Visiting Angels® of Bryan, TX.
Risking an Unsupervised Return
Across the US and right here at home in Bryan-College Station, senior citizens coming home from the hospital face a higher risk of hospital readmission than their younger counterparts for a variety of reasons. Things like disrupted sleep while in-hospital or medication side-effects may have left them weak and exhausted, which can easily lead to mistakes being made. For instance, without transitional care, seniors may fail to take their medications on time or even taking the wrong dosage. They may also fail to get enough rest or water, both of which are essential elements in the healing process.
Keeping Homecomings in Bryan-College Station Happy
When your loved one comes home form the hospital, it's cause for celebration. They're happy to be back among their familiar things, and you're happy to have them there. Transitional care from Visiting Angels of Bryan, TX can help to keep them there. Transitional care takes the worry out of their return by providing your loved one with guidance and monitoring that fills in any gaps in their care which could lead to re-hospitalization. We start on the scene by providing clients with our handy Ready-Set-Go Home discharge planning guide.
We can also be at home with your Bryan-College Station senior after their discharge to help make sure that they are following their aftercare instructions and attending any follow-up appointments.
Exceptional Transitional Care in Bryan-College Station
Our transitional care support system extends to seniors in not only Bryan-College Station, but also to seniors in Brenham, Navasota, Caldwell, Madisonville Calvert and Huntsville, TX.
To schedule a free consultation on how our Ready-Set-Go Home transitional care program in Bryan-College Station can support your loved one's recovery, call Visiting Angels of Bryan, TX today at (979) 209-0027.
Serving Bryan/College Station and the Brazos Valley
Visiting Angels
BRYAN, TX
707 Texas Ave #111A
College Station, TX 77840
Phone: 979-209-0027
Fax: 979-393-3003