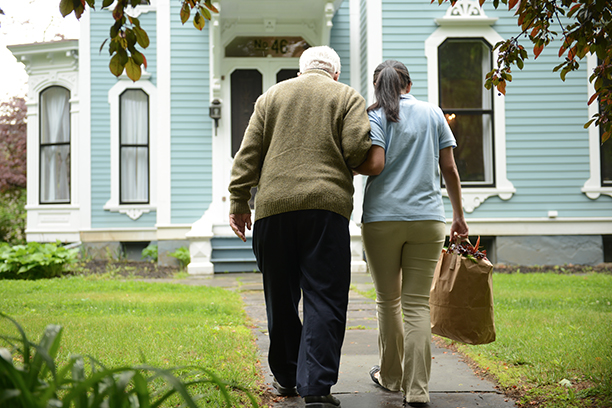 Long Distance Elder Care in Bryan-College Station
These days, it's common for family members to live hundreds of miles away from one another. But when a parent or grandparent starts to struggle with age-related difficulties, that distance can be a big problem. That's why Visiting Angels of Bryan, TX, offers long distance elder care services for seniors in the Bryan-College Station Metro Area. Our long distance program makes it easy to coordinate elder care services for a loved one who lives in the Bryan-College Station area, even if you live far away.
Coordinating Long Distance Elder Care Services
If you have a loved one in the Bryan-College Station area who requires elder care services, we encourage you to contact our team at Visiting Angels of Bryan, TX. For our long distance services, we encourage reaching out to our team by phone or online. Our care directors can answer any questions you may have about our services, provide you with an over-the-phone consultation, and take steps to coordinate meetings between your loved one and members of our staff.
Under our Select Your Caregiver® program, you and your loved one will be able to choose the caregiver who assists your loved one. We will set up interviews with qualified caregivers who we think your loved one will get along with, but you have the final say.
Our Elder Care Services for Bryan-College Station Seniors
Through our long distance care program, your loved one will have access to all of the elder care services we provide to Bryan-College Station seniors. Through our Life Care Navigation™ program, you and your loved one will be able to choose from an array of specialized services. Our services include:
Light assistance for seniors with moderate age-related difficulties
Personal care for individuals with physical impairment or disability
Non-medical care for seniors with chronic conditions
Memory care for seniors with Alzheimer's or another form of dementia
Companionship care for seniors at risk of senior isolation
Post-hospital home care for after an injury, illness, or surgery
Assistance using social media to connect with friends and family
Ongoing Long Distance Care from Visiting Angels of Bryan, TX
If you choose long distance elder care services from Visiting Angels of Bryan, TX, our team will provide you with regular over-the-phone updates about your loved one's care plan and their well-being. We can also provide drop-in visits and phone check-ups to monitor your loved one's well-being. If we notice a change in your loved one's health or well-being, we will notify you immediately. This way, you will have peace of mind that your loved one is looked out for — even if you're hundreds of miles away.
Our elder care services are provided to seniors in Bryan, College Station, Brenham, Navasota, Caldwell, Madisonville Calvert, and Huntsville. Contact us today to learn more about our long distance program.
Serving Bryan, College Station and the Brazos Valley
Visiting Angels
BRYAN, TX
707 Texas Ave #111A
College Station, TX 77840
Phone: 979-209-0027
Fax: 979-393-0003