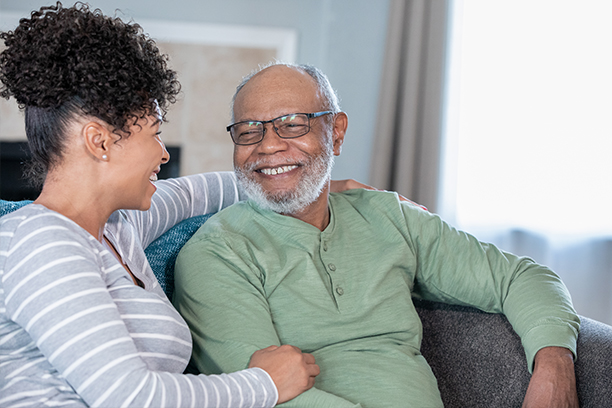 Private Duty Care
College Station's Private Home Care of Choice
It can be agonizing to watch your loved one struggle with the difficulties of aging. If your loved one requires more advanced home care, they likely need more support than your family can provide. That's why Visiting Angels Brazos Valley offers private home care options for families in College Station, Bryan, Caldwell, Huntsville, Navasota, Brenham, Calvert, and Madisonville. With our personalized approach, empathetic caregivers, and 24-hour support, we can help your loved one live an independent life with ease and joy.
A Personalized Private Home Care Approach
At Visiting Angels Brazos Valley, our first priority is to get your loved one the specific daily care they require. We know that mobility may be an issue for many seniors. That's why we'll come directly to your family member's home for a free consultation. We'll incorporate input from you and your family to make sure your loved one is cared for properly. Our care plans are highly personalized and adaptable. As your loved one's care requirements evolve, we can update their plan to accommodate these changes. It's how we provide a higher level of private home care to families in College Station.
Supportive Private Home Care in College Station
An exceptional caregiver can help ease your relative's daily burdens. With our private home care services, we aim to manage the emotional, physical, and spiritual needs of your family member. We'll personally select a caregiver whose schedule, skillset, and personality are an ideal fit for your loved one. Our caregivers can provide you with regular updates on your loved one. If they ever notice anything out of the ordinary, they'll let you know right away. You can rest easy, knowing your loved one is getting support from an empathetic, attentive caregiver.
Our 24-Hour Private Home Care Services
Private home care is not a 9-to-5 job. At Visiting Angels Brazos Valley, whether you need part-time, full-time, or 24-hour support, we can provide it. We know that staying connected is important, which is why we offer our all-hours client phone line. If you ever need to reach us, just give us a call and we'll quickly answer. With our vigilant care, your loved one will always have the support they need.
With Visiting Angels Brazos Valley, you can get private home care in College Station, Huntsville, Calvert, Madisonville, Navasota, Caldwell, Bryan, Brenham and Huntsville. Call our office today to set up an in-home consultation.
Serving Bryan/College Station and the Brazos Valley
Visiting Angels
BRYAN, TX
707 Texas Ave #111A
College Station, TX 77840
Phone: 979-209-0027
Fax: 979-393-3003