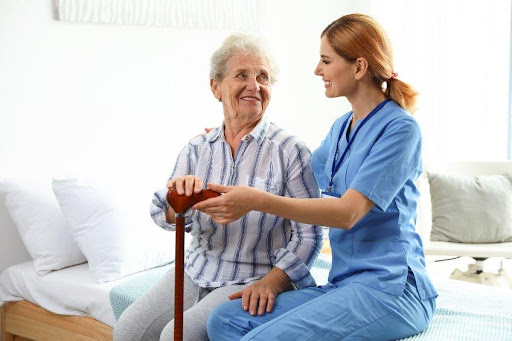 What it is Like Working with a Visiting Angels Caregiver
As you grow older, you may consider care options to help you live your highest quality of life. Assisted living facilities and senior homes are an option, but many seniors don't need to move to receive quality care. At Visiting Angels, we believe the most comfortable place for clients to age is at home, which is why our caregivers work with seniors to remain safe and happy in their own space.
What is Home Care?
Home care is when a professional caregiver comes to a client's home to care for them. Caregivers can assist clients with non-medical tasks, including light housekeeping, meal preparations, medication reminders, and personal grooming. Caregivers also make fantastic companions and can accompany seniors on errands or appointments. The primary goal of home care is to help aging individuals remain independent so they can continue to live happily and safely at home.
At Visiting Angels, our caregivers are not there to change clients' routines or force them to live differently. Our clients are in control and can let us know how much or how little assistance they want. They can choose their schedule and even let us know what they're looking for in a caregiver. We want the seniors we work with to feel confident in their arrangements and continue to live a life that makes them happy.
Services with Visiting Angels
We don't believe in cookie-cutter solutions at Visiting Angels. We understand that each individual we work with is unique and requires care specific to their needs. All our clients receive personalized care plans from how often they need assistance to the particular tasks caregivers perform.
Two of our most popular care services are companion care and personal care. Companion care services are perfect for seniors looking for a helping hand around the house. Caregivers who provide companion care can assist with light housekeeping, cooking, grocery shopping, medication reminders, laundry, and other household tasks. Our personal care services include all the same assistance as companion care but with the addition of hands-on help with tasks like personal grooming, mobility assistance, bathing, and toileting.
In addition to our companion and personal care, we also offer a wide selection of specialized care options.
Alzheimer's and dementia care: Dementia is a consistently evolving condition, so our caregivers need to remain flexible and adjust care plans as the disease progresses. Many caregivers who provide dementia and Alzheimer's care earn certifications designed by field experts to equip themselves with the tools and strategies needed to care for individuals with the condition.
End-of-life care: Seniors entering the final stages of life can utilize our end-of-life care services to improve physical comfort and mental and emotional well-being. Our caregivers can work alongside hospice teams and even provide resources to families to aid in the transition.
Transitional care: If a senior returns home after hospitalization and needs assistance, our caregivers can provide transitional care. The goal of transitional care is to reduce the risk of readmission by helping clients complete follow-up care instructions, including transportation to doctor's appointments.
Getting Started with Visiting Angels
Our Cullman office serves families in Cullman, Etowah, Walker, Marshall, and Blount counties. Seniors interested in learning more about our services can schedule a complimentary consultation by calling 256.734.6600 or messaging us online. During the consultation, a member of our care team will learn more about the client and answer any questions they may have. We will then create a personalized care plan based on the discussion to ensure we've addressed the client's wants and needs. Next, we match our clients with caregivers and can start services within 48 hours.
Ready to get started? Give us a call at 256.734.6600 or message us online.