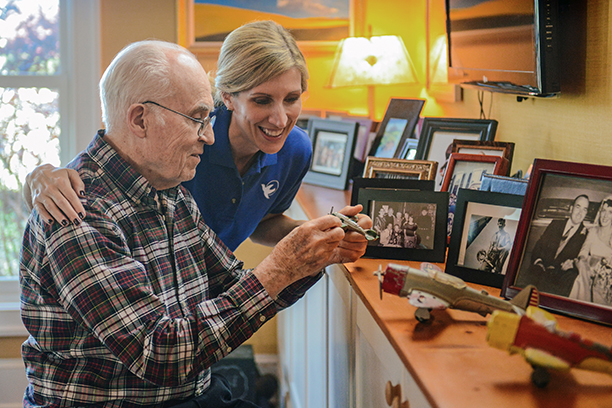 What is Home Care?
At-home care for seniors from a reliable agency like Visiting Angels can help your loved one safely and comfortably age in place in Cullman, Arab, Jasper, Warrior and surrounding communities in Alabama
You might have heard about in home care for seniors, but if you are not really sure what it is, we are here to help. At Visiting Angels Cullman, we've been providing high-quality care for elderly adults for many years and we can guide you through the decision-making process.
Providing Quality At-Home Care for Seniors in Cullman
How can I help my parent and keep them safe without making them lose their independence? How can choose the best caregiving agency for my loved one? What if I hire a caregiver my parent doesn't like? How can someone provide care without invading the privacy of my parent? What type of in-home senior care services should I choose?
These are all questions you might be asking yourself. We understand that inviting a stranger into your loved one's home is not an easy decision and that starting the home care process can be overwhelming. We have cared for thousands of seniors and dealt with all kinds of situations, so we are qualified to answer any of the questions you might have about at-home care for seniors. We will take the time to answer all of them and help you make the best decision when it comes to your parent's care.
Families usually take time to research and evaluate many solutions before they decide to make a home care request. However, in some situations there is no time to do that. In cases when a fast response is needed, namely when there is an emergency or a late day discharge from a hospital, we are able to help you. Visiting Angels Cullman can provide hospital assistance, assisted living facility bedside care or assist your loved one when being discharged from the hospital or rehabilitation. We can also help your parent transition from an assisted living facility to a family member's home.
Helping You Make the Best Decision on Professional Senior Care
We understand that choosing a professional caregiver for your parent can be stressful, and there are several ways we can ease your burden. Here at Visiting Angels, we will consult with you about scheduling, costs, and care and schedule an in-home visit where we will be able to get to know your loved one and create a personalized care plan based on their needs. We will gladly coordinate a caregiver meeting and adjust your parent's care plan whenever needed.
Don't hesitate to speak with our care coordinator in Cullman, AL, today. We are here to answer your every question about our at-home care for seniors in Cullman, Jasper, Arab, Warrior and surrounding communities.
Serving Cullman, Etowah, Walker, Marshall & Blount Counties
Visiting Angels
CULLMAN, AL
207 4th St SE #A
Cullman, AL 35055
Phone: 256-734-6600
Fax: 256-734-6616