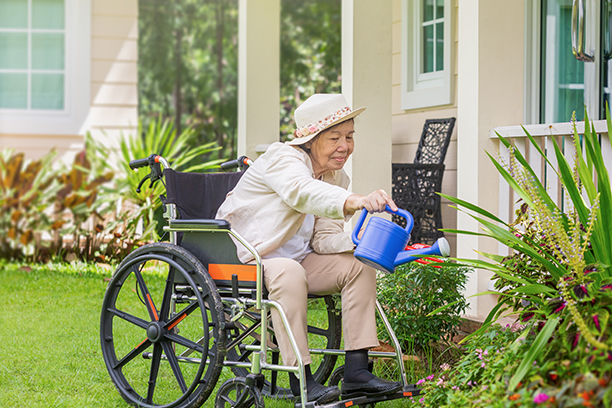 Proactive Elderly Home Care Services in Cullman, AL
When you count on Visiting Angels for elderly home care services in Cullman, AL, you can rest assured your loved one will receive the support they need from a compassionate and proactive caregiver
Whether you live down the street or across the country from your loved one, finding an at home living assistance agency to provide care is a huge tasks. You want to find a caregiver and agency you can trust to provide a superior level of care for your loved one in the Cullman, AL, area. Visiting Angels Cullman is one of the most trusted agencies in the Cullman, AL, area for at home living assistance services. Our proactive approach to care has made us the preferred choice for at home care services in Jasper, Cullman, and the surrounding communities.
Professional and Experienced Caregivers
At Visiting Angels Cullman, we believe each of our clients deserves to have the best possible elderly home care services. To us that means care that is proactive. We only hire caregivers with previous experience who have the skills and knowledge to care for your loved one's changing needs. Each of our caregivers understands how important it is to be on the lookout for changes in their client's health and well-being. Even small changes can indicate changes on the horizon. If your loved one's caregiver sees any changes, they will note them and share their observations with you. Our caregivers are empowered to share regular updates on the care and well-being of your loved one.
In addition to the updates you receive from your caregiver, our service coordinators will also be checking in with your loved one. Our service coordinators provide ongoing monitoring of all our clients via phone calls and drop in visits. They are checking to be sure your loved one is receiving the best possible elderly home care services. We are also checking to be sure your loved one has a positive relationship with their caregiver. If we notice any areas of concern, we'll be in contact with you.
Learn More About Our Elderly Home Care Services
Providing the finest in home care is important to us at Visiting Angels Cullman. If you have any questions or concerns about the living assistance services we are providing, we encourage you to call our office. We have staff available at all times to answer questions. Our team is trained to return all calls within fifteen minutes. Even after hours client calls are returned in this time frame. We are committed to providing proactive care with open lines of communication.
If you have questions about our proactive at home living assistance services, please call our Cullman, AL, office today.
Serving Cullman, Etowah, Walker, Marshall & Blount Counties
Visiting Angels
CULLMAN, AL
207 4th St SE #A
Cullman, AL 35055
Phone: 256-734-6600
Fax: 256-734-6616