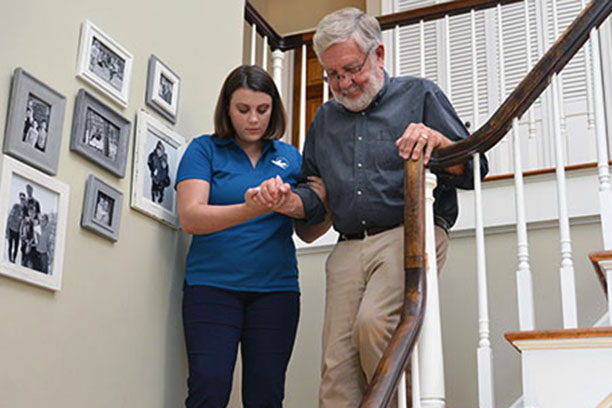 How Our Non-Medical Home Care Services Keep Seniors Safe in Cullman, AL
With non-medical home care services from Visiting Angels, our caregivers can help your loved one in Cullman, Jasper, Arab and Warrior, AL avoid falling in their own home
Falls are one of the main causes of senior disability and they are a major contributor to the loss of independence in senior years. In addition to leading to serious injuries, falls can take a toll on a person's emotional and social well-being. As a result of falls, many seniors withdraw in themselves and lose interest in all those things they once enjoyed. They can become anxious, stressed and depressed.
Many seniors are also terrified of falls, avoiding any outdoor social gatherings and activities. This can lead to isolation and mental health issues as well.
That's why Visiting Angels offers a fall prevention program for seniors in Cullman, Jasper, Hanceville, Arab, Warrior and surrounding Alabama communities. Through our non-medical home care services, our caregivers can help your loved one stay safe and maintain their quality of life.
Risk Factors and Consequences of Falling
Here's how falls and fall-related injuries can impact seniors:
Each year, one in three seniors falls.
Each year, one in five seniors falls and sustains a grave injury, like a broken hip or head trauma.
Seniors who fall once are more likely to fall again.
More than 800,000 people need to be hospitalized each year due to falls.
Recovering from a fall can take up to a year in a long-term care facility – and many seniors who receive treatment in these facilities never return home.
While all of these facts are scary, experts providing non-medical home care services point out that falls do not just happen, meaning that they are the result of one or more risk factors. There are many things that increase a senior's chance of falling, including physical and medical conditions, medication side effects, unsafe living environment, dehydration and more. The good news is that most falls can be prevented.
How Non-medical Home Care Services Help Seniors Stay Safe
In order to prevent falls, we stress that it is of utmost importance to recognize and understand these risk factors. As fall prevention may present a challenge for seniors and their loved ones, at Visiting Angels Cullman, we are committed to educating older adults and their families and caregivers about the many different ways to reduce the risk of falls.
To learn more about our fall prevention program, please contact our office in Cullman. We are happy to schedule a free in-home assessment for your loved one and determine how to minimize their chance of falling. Give us a call today – we are happy to help!
Download Your Free Safe & Steady Fall Prevention Resource Guide today.
Serving Cullman, Etowah, Walker, Marshall & Blount Counties
Visiting Angels
CULLMAN, AL
207 4th St SE #A
Cullman, AL 35055
Phone: 256-734-6600
Fax: 256-734-6616