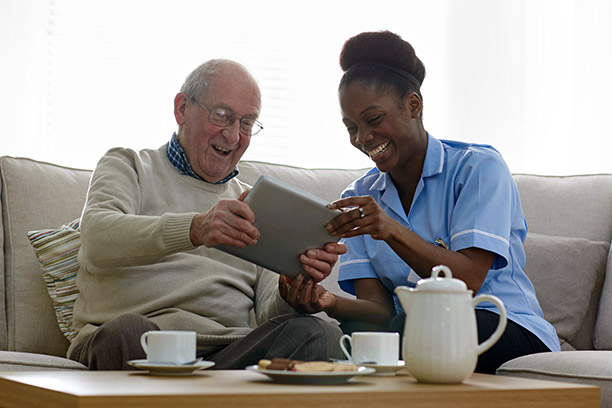 Alzheimer's Services from a Visiting Angels of Danvers, MA
Our Mission: To Improve the Quality of Life for Those Suffering with Alzheimer's Disease and Their Families


Alzheimer's and Dementia Care from Visiting Angels of Danvers
Visiting Angels of Danvers knows Alzheimer's and dementia care can mean different things to different people. For some, it means the ability to remain independent in the familiar surroundings of home. For others, it means a respite and peace of mind for family caregivers. For many families Alzheimer's and dementia care from Visiting Angels of Danvers means a supportive home health aide to give personalized care and attention. Our one-on-one assistance provides your family with customized home care you can't find elsewhere.
Alzheimer's and Dementia Care Allows You to Focus On Other Things
When your loved one receives dementia or Alzheimer's care from a Visiting Angels of Danvers home health aide, you will be free to focus on other areas of your life such as career, relationships, hobbies, or taking care of your own family and their needs.
Many family caregivers find themselves burnt out from trying to be the sole caregiver for a loved one. Due to the emotional and physically draining nature of caring for someone with a memory disorder, it is good to have outside support. Visiting Angels of Danvers has the dementia and Alzheimer's support services you need. We can give you peace of mind knowing your loved one is getting the in home care they require from a compassionate professional.
Getting Started with an Alzheimer's and Dementia Care Home Health Aide
When you decide to seek the support of Alzheimer's and dementia care from Visiting Angels of Danvers, we encourage you to call and speak to a member of our team. We will coordinate a time to come to your loved one's home for a complimentary assessment which includes a safety check and fall prevention. We can offer suggestions to help you keep your loved one safe.
During this meeting, we will also discuss your loved one's physical needs, scheduling requirements and any specific emotional concerns. Our agency will then do our best to match you with several of our qualified home health aides. You will have the opportunity to sit down with the Alzheimer's and dementia care specialists from Visiting Angels of Danvers and choose the one you are most comfortable with. When it comes to Alzheimer's and dementia care from our agency, you have the final say regarding which services you will receive and who will provide them.
For Alzheimer's and dementia care that is focused on supporting your loved one's unique needs, call Visiting Angels of Danvers at 978-774-7400.
Serving Boston's North Shore and the Surrounding Area
Visiting Angels
DANVERS, MA
85 Constitution Ln #2D
Danvers, MA 01915
Phone: 978-774-7400
Fax: 978-774-7410