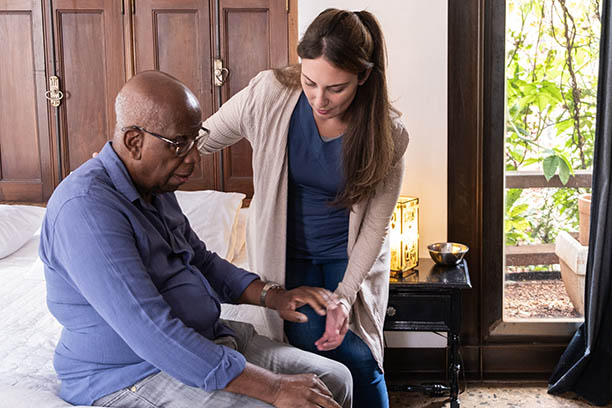 Palliative Care in Danvers, MA and the Surrounding Area
After a senior deals with a long-term illness or health condition, finding comfort can be difficult. Palliative care provides Danvers area seniors with an avenue to receive professional one on one care from the comfort of their own home. Unlike hospice care, palliative care caters to any and every client no matter their life expectancy. With Visiting Angels of Danvers, seniors can improve their quality of life and find their own peace. We cater to families throughout Danvers, Gloucester, and the surrounding North Shore area.
How Visiting Angels Provides Palliative Care to Seniors in Danvers, Peabody, and Nearby Cities in Boston's North Shore
Our program specially caters to the client's unique health and wellness needs. From their physical ailments to their preferred diet, our plans will consider each aspect of their life to develop the best care plan possible. This program is included in our Life Care Navigation collection of senior care services.
Our team of professional, compassionate caregivers is trained to provide home care that is supportive, soothing, and comforting. When you choose Visiting Angels as your primary care provider, you can rest assured knowing that your loved one's needs will always come first.
We cater to the different needs that our clients may have, including their physical, emotional, social, and spiritual needs
To better cater to their physical needs, one of our caregivers will recognize and respond to common signs among the elderly. They will also provide non-medical care whenever your loved one needs it.

To better cater to their emotional needs, we prioritize compassion and always support seniors who may be going through issues such as anxiety, depression, and loneliness.

To better cater to their social needs, a caregiver will build a strong relationship with their client as well as their family.

To better cater to their spiritual needs, we help restore hope to the lives of seniors while helping them find comfort and relief throughout their day-to-day life.
Getting Started with Visiting Angels
At Visiting Angels of Danvers, care professionals are waiting to help you take the first step on your care journey. If you would like to learn more about our palliative care, call us at 978-354-7957.
Serving Boston's North Shore and the Surrounding Area
Visiting Angels
DANVERS, MA
85 Constitution Ln #2D
Danvers, MA 01915
Phone: 978-774-7400
Fax: 978-774-7410