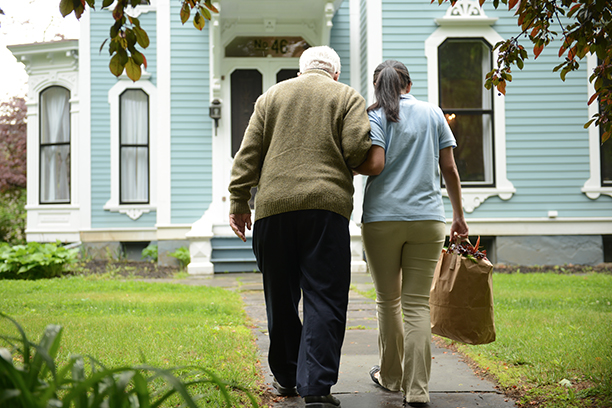 Home Care Costs
If you want the best possible home care from a professional agency you can trust — and at an affordable cost — Visiting Angels should be at the top of your consideration list.
Cost of services is usually a primary deciding factor for families needing in-home assistance for a loved one. Visiting Angels addresses these financial concerns by developing customized plans that focus on both needs and budgets.
How Much Does Home Care Cost?
Moving your loved one to a nursing home or an assisted living facility may be an option. However, the high expense can make you feel reluctant. According to Genworth, the monthly median cost of a nursing home facility is between $8,000-$9,500.
In-home care is a more personal option at a lower cost.
While in-home care expenses vary across the country and are based on your senior's individual needs, home care pricing can typically range between $35-$50 per hour (check your local office for specific rates). Actual prices usually depend on the level of assistance your loved one needs and the town or city where they live.
Visiting Angels can help you stay within your budget and avoid paying for unnecessary services by allowing you to schedule the frequency of care needed. For example, if you don't require a 24-hour or a full-day caregiver, you can modify the hours necessary. Some Visiting Angels' offices may discount hourly rates if you schedule on an ongoing, routine basis or if you exceed a specified number of hours per week.
Some locations also accept long-term care insurance to help offset the cost of services. Your senior may qualify for coverage through their state's Medicaid program or veteran's benefits.
What Are Affordable Options for In-Home Care Services?
With in-home support from Visiting Angels, your senior can continue living at home for as long as possible. Visiting Angels provides affordable, flexible options that include:
Assistance with activities of daily living
Temporary or long-term support
Daytime, evening, overnight, 24-hour, or live-in care
Weekday, weekend, or holiday visits
Visiting Angels also offers professional senior care for older adults in assisted living facilities who need additional one-on-one support, allowing them to remain in their current living situation for as long as possible — even as their needs change.
How to Pay for Cost of Care?
A critical component of long-term care planning is knowing where to find supplemental financial assistance. Here are five financial resources to explore:
Medical Insurance
Most health and medical insurances do not cover in-home personal care. However, checking with a senior's medical insurance company is a good idea to determine if any insurance coverage is available. Although Medicare does not currently pay for home care, some states provide coverage through Medicaid. Some Medicare Advantage plans may offer benefits.
Long-Term Care Insurance
Some seniors may have specific coverage through a long-term care insurance policy. These policies are separate from health insurance and are often purchased through an insurance agency for long-term care expenses.
Veterans Benefits
In-home coverage may be available through various VA programs if a senior receives a pension from the Department of Veterans Affairs (VA).
State and Local Assistance Programs
Certain state or local programs provide financial assistance for in-home care. Check with your state Department of Aging to find out if any apply to you or a loved one.
Private Pay
Most Visiting Angels' clients pay out-of-pocket—or "private pay"—which means older adults pay through their own funds. Usually, the funds are from individual retirement accounts (IRA), pensions, Social Security benefits, 401(k), or other savings.
Customized In-Home Care with Your Needs in Mind
When you choose Visiting Angels, a team of dedicated professionals will create a tailored schedule and plan that fits your budget. You'll benefit from a steadfast partner who understands your concerns, needs, and preferences — and is committed to helping your loved one live a full, active, and happy life in the home they love.
Families nationwide have relied on Visiting Angels since 1998 as a leading provider of affordable, high-quality home care. From occasional respite support to 24-hour around-the-clock assistance, Visiting Angels can manage any level of service you and your loved one require at a reasonable cost.
Contact a Visiting Angels home care location in your area to learn more about their costs. Coordinators can discuss your loved one's needs during a free in-home consultation.
Serving Davis, Weber, and Morgan Counties
Visiting Angels
LAYTON, UT
1649 Antelope Dr #370
Layton, UT 84041
Phone: 801-820-5874
184 E 500S
Bountiful UT 84010
Phone: 801-820-5874