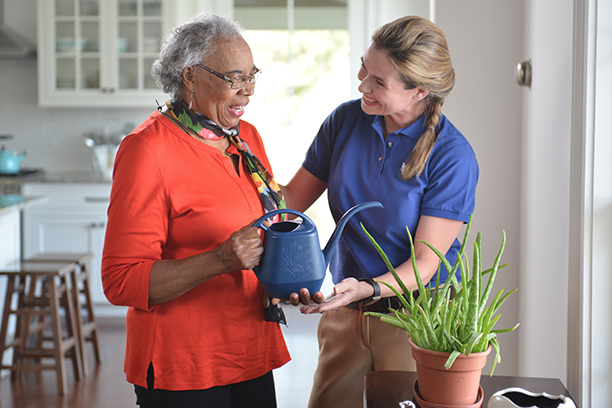 Why Visiting Angels
WE UNDERSTAND.
We understand what you are going through. Visiting Angels has served hundreds of families in Utah for nearly 10 years.
WE OFFER.
Visiting Angels doesn't just provide in-home care. We offer Life Care Navigation to guide families through the aging process. Our trained staff can guide, through a series of lessons, how to connect digitally with their families through Facebook, Skype, and E-mail. This is just one of our many Life Care Navigation programs available to our clients. Our Social Care program is a great tool against depression and loneliness that is so often an obstacle for seniors. Whatever the needs, we have programs designed for you.
WE MATCH.
We complete the puzzle. We will listen to your personal needs and help create a personalized care plan. We will match you to the best caregiver for your unique situation. You make the final decision about which caregiver best meets your needs.
WE HIRE.
We only hire the best and make them elite. We have a rigorous hiring process in which we turn down 20—30 times more applicants than we hire. We require an extensive background check, drug screenings, and review Homeland Security records.
WE TRAIN.
When we know we have the best, we provide extensive training, continued education, and in-services to keep them at the top of their field. All our caregivers are trained in Palliative Care and have regular trainings on fall prevention, Alzheimer's and Dementia Care, HIPPA regulations, infection control, blood-borne pathogens, elder abuse and neglect, stress management, and more.
WE MONITOR.
We monitor our caregivers' time and quality of care. We use a telephone system similar to punching a clock. We know when a caregiver arrives and when they leave. We have regular (announced and unannounced) supervisory visits to ensure the care being delivered is meeting and exceeding the needs and expectations of our clients.
WE COVER.
With an extensive care-force, we are prepared to ensure that a qualified substitute will be available to step in if your caregiver is unable to work.
WE INFORM.
We have the industry leading caregiver monitoring software. Every registered family member can instantly access the Family Room and see how things are going. We work closely with all involved.
WE ARE HERE!
We are one phone call away 24 hours a day, 365 days a year at (801)820-5874. We are available days, evenings, and weekends to discuss your personal or family needs.
Visiting Angels provides in-home care, senior homecare, elderly care in : Bountiful, Woods Cross, Centerville, Kaysville, Fruit Heights, Layton, South Weber, Uintah, Riverdale, South Ogden, Washington Terrace, Ogden, North Ogden, Pleasant View, Harrisville, Farr West, Plain City, Slaterville, Morgan, Mountain Green, Eden, Liberty, Huntsville, UT.
Serving Davis and Weber Counties
Visiting Angels LAYTON, UT
1649 Antelope Dr #370
Layton, UT 84041
Phone: 801-820-5874
184 E 500S
Bountiful UT 84010
Phone: 801-820-5874